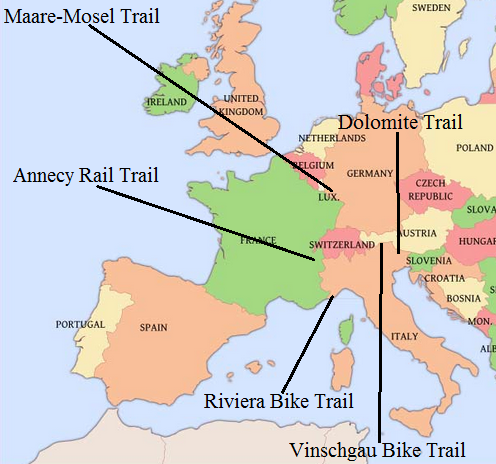 I'll need to transport the bike by plane, train and bus with some rather short connections. With a normal diamond frame bike, this would be a frustrating, difficult chore. Fortunately, I'll be riding my Brompton folding bike, a bicycle that folds in seconds, rolls like a suitcase when folded and will fit in the overhead bin of a plane.


I'm flying out of New Orleans. As soon as I arrive in Frankfurt, Germany, I'll be on a train for the trail head of the Maare Mosel bike trail. I'll bicycle over viaducts, through tunnels and vineyards down into the Mosel valley, then take a bus to an airport and fly to Bergamo, Italy, all in the same day (I warned you it's ambitious).

The pace of the following day is just as full. I'll go by train from Bergamo to San Remo on the Italian Riveria. I'll ride along a rail trail that hugs the striking coastline. I'll board another train for Nice, a flight for Geneva and a bus for Annecy, France.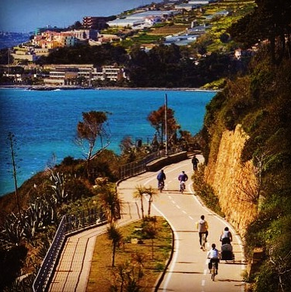 The next day, I'll be cycling on a rail trail that runs from Annecy, along a beautiful lake and into the Alps. I'll take a train to Dijon, have dinner and then sleep on the night train to Verona, Italy with my bike tucked away neatly below my bed.

After breakfast on the train the following morning, I'll change trains twice as I ascend into the Alps to bicycle through orchards and picturesque villages on the Vinschgau bike trail. Then, I'll ride 2 more trains into the Pustertal to reach Dobbiaco/Toblach, my destination for the evening.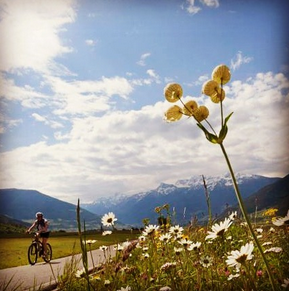 From Dobbiaco/Toblach, I'll bike on the famed Long Way Of The Dolomites bike trail, cycling through the beautiful mountain town of Cortina d'Ampezzo and past some of the most awesome mountains in the world. After spending the day on the trail, I'll ride the train down to Treviso, near Venice.

My last day is unplanned. Perhaps inclement weather will cause me to linger somewhere and push back the schedule a tad. If my legs aren't spent and I've met my schedule, I may head to the Piave River for some easy flatland cycling. Or, I may find a welcoming cafe, order a glass or two of wine and mentally process all that I've seen and done.

While some people may consider me mad, I think this trip will be fun and exciting (in a good way, hopefully). Along the way, I'll be shooting photos and posting them daily to social media (Instagram, Facebook and Twitter). Along with seeing my trip progress, expect some amazing photos.