THIS BIKE HAS BEEN DISCONTINUED. OUT OF STOCK. Info is for archival purposes only.
For a bike that can go just about anywhere, the new Kent Nexus 3 spd alloy folding bicycle is quite a value. This light yet sturdy 25 lb. bike folds easily and quickly. When folded, the bike is so compact that if you tuck it into the optional carry bag, no one would imagine a bicycle is hidden inside. Being so portable also makes the bike theft and vandal resistant because there's no need to leave it outside unattended.
The Kent Nexus 3 folding bike is a special, limited edition bicycle built for RideTHISbike.com. Though in many ways the same as the Kent 6 spd alloy folding bike (same frame & accessories), there are 3 essential differences that set this bike apart - drivetrain, color and coaster brake.
Drivetrain: Nexus 3 Speed (Internal Hub Multi-Speed)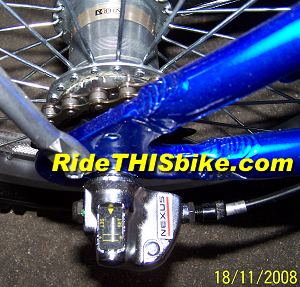 The Kent Nexus 3 speed folding bicycle is the most economical folding bike on the market with the superior Shimano Nexus multi-speed internal hub. And what a difference the Nexus drivetrain makes! Since the gears are inside the rear hub, there is no derailleur hanging down below the rear cogs and just 1 small cog on the back wheel. The result: no more shifting the chain off the rear cassette into the spokes, less frequent chain cleaning (no derailleur hanging low to pick up debris), more efficient pedaling AND you can even switch gears when stopped.
Color: Medium Blue
Since Kent spec'd this bike for RideTHISbike.com, they asked what color to produce it in and medium blue was the clear choice. Not only was it the most requested color among those I polled, it's also my personal favorite color. No doubt, this bike will have much greater eye appeal than the Mango colored Superlite Nexus folding bike that it replaces.
Brakes: Rear Coaster Brake/Front Linear Pull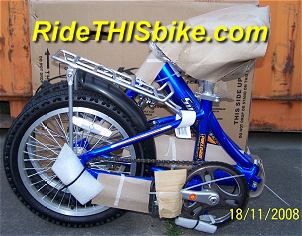 For simplicity, reduced maintenance, safety, convenience and cleaner lines, the Kent Nexus 3 folding bike is outfitted with coaster brakes on the back and linear pull brakes on the front. Coaster brakes are easy to operate (just pedal backwards) and they don't eat up, dirty or discolor the rear rim. In fact, since most riders will be cruising along on this folding bike at 13 mph or less, I considered going with no front brake (like on the Superlite Nexus folding bicycle). When polled, cyclists said they preferred to have the front brakes though so there 'ya go.
An Ideal, Entry Level Folding Bike
Given the bike's good looks, comfortable & upright riding position, efficient & reliable drive train, capable & low maintenance brakes, very reasonable price and practical features (rack, fenders & kickstand), this folding bicycle appeals to a wide variety of folding bike users. Campers, commuters, pilots, sailors, students and recreational riders will all enjoy this bike. Naturally, there are other bikes on the market that are better than or equal to this bike - but they cost much more. For the value, this bike cannot be beaten. And it's fun to ride too.
Optional Accessories:
Though the bike functions well right out of the box, two optional accessories that can improve your enjoyment of the bike include a carry bag to place the bike in (great for taking your bike indoors without getting the floor dirty; also helps with boarding mass transit and makes bike invisible to thieves) and a locking, rain-proof, hard shell carry trunk that fits on the carry rack (large enough for books, groceries, helmet, purse, etc.).
Features:
* Strong aluminum alloy frame.
* 3 speed Shimano Nexus drivetrain (gears inside the hub).
* Nexus twist style grip shifter.
* Quick 'n easy height adjustable seat and handlebars.
* Heavy duty folding handlebar stem (photo right).
* Linear pull front brake; rear coaster brake.
* Alloy rear carry rack.
* Folding pedals.
* Rust free fenders.
* Kickstand.
* Padded seat.
* Alloy wheels.
* Folded Dimensions 28" x 23" x 16".
* Terrain taming 16" x 1.75 all purpose tires.
* Price... JUST $259 w/Free Shipping


DIMENSIONS
Minimum Compressed Size
(folded, resting on wheels & bottom bracket protector): 28" x 23" x 16"
Max. Size Unfolded: 54" x 45" x 15"
Shipping Carton Dimensions: 28" x 24" x 12"