NOTE: Some product photos depict optional accessories.
Notable Strida SX Features:
* 18" Wheels & high PSI Schwalbe tires
With decreased rolling resistance and a higher gear ratio (60 gear inches), the Strida SX is significantly faster than the standard Strida 5.0. You'll cruise at 14-15 mph with bursts much higher.
Invented in 1987 so white collar commuters could bicycle commute to work without getting dirty, the unusual looking, triangular shaped Strida has withstood the test of time.
An excellent quality medium to short distance bike that folds
Light. Attractive. Fast folding. Street worthy. Clean. Low maintenance. Time tested. Portable. If you crave these features in a bicycle, the Strida SX is for you.
Light
Weighing in at 22 lbs, the Strida SX is a very light folding bike. Only a few other production bikes that fold weigh less (see Lightweight Folding Bikes - Top 5).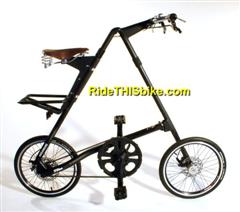 Attractive
Finished in brushed silver with Strida's iconic frame, the SX demands attention. It's distinctive, minimalist, 'A' shaped, collapsible-frame design and beautiful finish make you a trend setter simply by association. Talk about making friends and influencing people... not only is the Strida a date magnet; just owning one may gain you a pay raise ;-)
Fast Folding
In a hurry? One, split second step folds the Strida SX's frame. Ride right up to the door, dismount, fold the bike and either roll or carry it inside. Magnets and a smart design keep things together (for a smaller footprint or storage, folding the pedals and handlebar ends take just a couple of seconds more).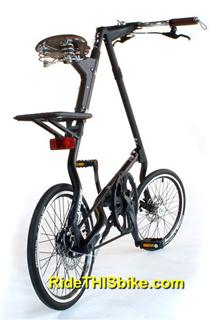 Street Worthy
The SX's 18" alloy wheels take potholes, curbs & cracks better than the smaller wheels of other folding bikes, providing a ride that is less harsh. Nimble, the Strida's low weight provides faster acceleration and effortless maneuverability. Disc brakes stop you on a dime in all weather conditions.
Clean
The Strida SX's kevlar drive belt, painted aluminum frame, plastic/rubber fenders and disc brakes prevent your body or clothes from getting dirty.
Low Maintenance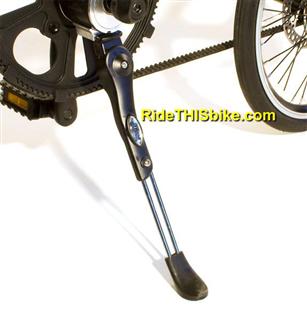 The kevlar drive belt, heel activated dual speed crank and disc brakes will last virtually forever. With disc brakes, the sidewalls of the wheels do not wear down (18" wheels are also stronger than comparative, full size wheels).
Time Tested
The SX is one of the latest and best examples of the Strida, a folding bike brand that has been sold for over 2 decades. The improvements embodied in the SX make this one of the best performing and most durable Strida folding bikes ever.
Extreme Portable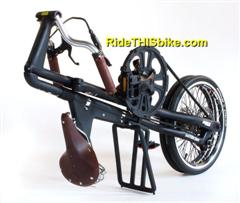 Folded or unfolded, brake straps prevent the SX from rolling; lean it against the wall of an elevator, subway car, etc. worry free. When folded, the Strida rolls like a wheeled walking stick, easily navigating through crowds. The Strida 5.0's combination of light weight and bundled-stick folding design make it simple to carry free of the straps or bungees other folders need to stay folded. When you set it down, the Strida rests on the wheels and plastic carry rack, preventing the frame from getting scratched.
Why So Special
Designer Mark Sanders understood that commuters yearned for a low maintenance bicycle that they could take on the train, bus or subway. So he substituted a clean & greaseless kevlar belt for the standard, oily chain and used internal drum brakes instead of brake pads that rubbed on the outside of the wheel rims. But his most radical solution was his reinventing of the bike frame itself. Mark pared the frame down to just 3 tubes of aluminum. On demand, the frame folds in seconds into a stick about as long as a walking cane but with 2 wheels that roll easily down the narrow aisle of a bus, etc.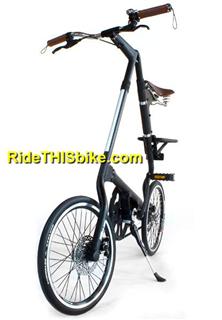 The STRiDA has won many awards including ID Magazine's prestigious Design Review award, Cyclex awards, and Millennium Product awards. It is displayed in several design museums worldwide including London's Design Museum and Nijmegen Fietsmuseum, Holland and the New York Museum of Modern Art retail collection.
SIZE & WEIGHT:
Carry Capacity (rider weight) - up to 220 lbs (100 kgs)
Optimal Rider Height: 5'4" to 6'4" (153cm to 193cm)
Dimensions (folded): 47" x 20" x 9"
Bike Weight: 22 lbs
SPECIFICATIONS:
* Frame: 7000 Series Aluminum Powder-Coated Rustproof Aluminum
* Handlebars: Aluminum
* Brakes: Cable Disc Brakes front & rear
* Tires: 18" Schwalbe
* Speeds: 1 (60 gear inches)
* Saddle: Standard black model w/Strida logo
* Bottom Bracket: Welded
* Luggage Rack: Plastic (30 lb carry capacity)
* Bike Bell: "Ding-Ding" Style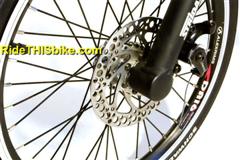 OPTIONS:
* Strida "bent" handlebars (for taller riders)
* Strida logo'd aluminum Kickstand
* Strida logo'd Carry Bag

Ships FREE Lower 48 US only. Call 504-324-2492 or email us for shipping quotes to Alaska, Hawaii, APO's & Canada.

Note: Every effort has been made to ensure the accuracy of this description; however, bike specifications, features, and colors are subject to change without prior notice.