A Trunk For Your Bike
Totes items securely on your bike & keeps them dry too.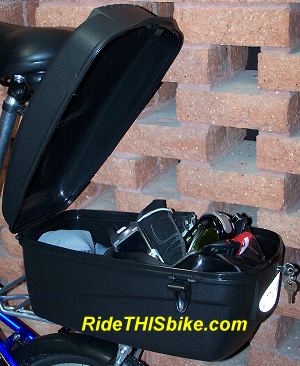 Whether it's a change of clothes, books, a purse/wallet, electronics or groceries, chances are you'd prefer items on your bike to stay dry regardless whether you get caught cycling in a downpour. This bicycle trunk does that for you.
Part of the fun of riding a bike is being exposed to the elements but not if your iPod, cell phone, laptop, etc. get ruined in the process.
Constructed of hard shell ABS plastic, this locking bicycle trunk bolts to your rear carry rack. The clam shell type hinged lid opens wide, making it easy to tuck a bike helmet and other goodies inside. There's a lipped edge on the trunk's lid and base so the two close snugly together. Two plastic clasps and the lock keep the lid closed securely even when riding over bumpy terrain.
Mounting The Trunk To Your Bike
For your convenience, mounting holes have been pre-drilled into the bottom of the bike trunk and basic mounting hardware is included. In many cases, the included hardware and mounting holes will work just fine; however, carry racks do vary so some additional work may be required to fit this trunk to your bike.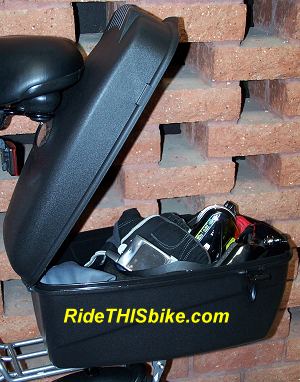 Features:
- Made from sturdy, hard shell ABS plastic
- Includes lock, 2 keys & mounting hardware
- Rain-proof
- Fits to most bicycle carry racks
- Opens wide for easy access
- Plenty of storage space (@ 900 cu" inside volume)
- Highly reflective sticker on back for visibility
Dimensions:
- 17" x 8" x 7"
Note:
Although this trunk is great for keeping items dry, I do not suggest leaving valuables inside while the bike is outside, unattended. Even with the trunk locked, if someone wants to get inside, they can so use common sense.

Ships FREE Lower 48 US only. Call 504-324-2492 or email us for shipping quotes to Alaska, Hawaii, APO's & Canada.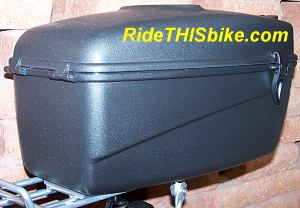 Disclaimer: Every effort has been made to ensure the accuracy of the info on this page; however, specifications, features, colors and pricing are subject to change without prior notice. To learn if there have been any recent changes that have not yet been published to the site, just call or send an email.