Westport Folding Trike
Sky Blue, Adult Sized Tricycle That Folds


At A Glance:
• Price: $369.00 (shipping not included)
To buy this product, please contact us during business hours.
Notice:
Although local purchases of the Westport Trike (from the RideTHISbike.com store in the New Orleans French Quarter) include assembly, it is only possible to ship this product partially assembled. Be prepared to mount the handlebars, front wheel, fender, basket, etc. or to have someone knowledgeable to do the work for you.

"My bike arrived and it is wonderful. My almost 92 year old mom wouldn't get off it yesterday! First time she's ever ridden a bike in her long life! My daughter loved it as well. So thanks again and we may order another one later... and we can all go on outings." E. Reiter - Houston, TX

Kent Westport Adult Trike - Key Features:
* Easy folding design for storage & portability
* Brakes: Front linear pull brake (no rear brake)
* Strong steel frame; yet, weighs just 54 lbs.
* Low, stable center of gravity (20" wheels)
* 20" all purpose tires offer a smooth ride.
* Shock absorbing front suspension fork
* Generously sized rear cargo basket
* Low, easy step-through design
* Dimensions: 58L X 26W X 42H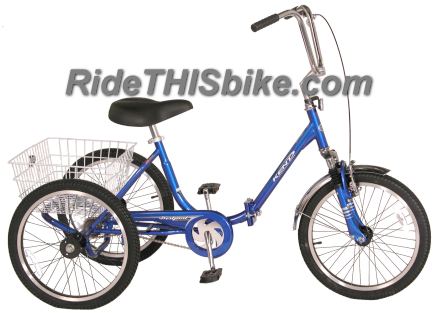 * Wide comfortable seat
* Front Fender
* Carry capacity: 300 lbs.
* Speeds: 1 speed
* Color: Blue

* Price: $369.00

Supplies are limited so order it today!

MORE ABOUT THE KENT WESTPORT FOLDING ADULT TRICYCLE (TRIKE)
The Kent Westport Adult Tricycle is a super stable bike. With three 20" wheels, the rider's center of gravity is lower than on a bicycle with full size (26") wheels. The trike is easier to get on or off and you don't need to lean into turns as much; thus, it's practical to use for running errands like grocery shopping, going to the post office, etc. The upright seating postion is comfortable and the folding frame design requires half the storage space of the typical adult tricycle; the bike folds/unfolds in seconds.

DIMENSIONS
Bike (unfolded): 58L X 26W X 42H
Weight - Bike Only: 54.0 lbs
Folding Time (main hinge): 5 seconds
Max Rider Weight with High Pressure Tires: 300 lbs
Rider Max. Height: 6' 6

COMPONENTS
Frame: Steel
Handlebar Stem: Alloy
Handlebars: Chromed steel
Front Fork: Steel suspension type, 20"
Seat Post: Quick release adjusts height in seconds; removable
Saddle: Double padded comfort saddle in Black
Brakes: Front linear pull brake
Rear Carry Rack: Vinyl covered wire basket
Reflectors: Front, Rear and each wheel
NOTES
To order this product, call us during business hours.
Shipping is additional. Call 504-324-2492 or email us for shipping quotes.
Every effort has been made to ensure the accuracy of this description; however, bike specifications, features, and colors are subject to change without prior notice.