Why Buy A Folding Bicycle

Bikes that fold are more versatile than traditional bicycles. For storage or transport, they fold compactly. When unfolded, they can perform like a regular bike. Even if they have small wheels (so they can fold even smaller), those that are designed appropriately have the same pedal cadence as on a typical bicycle (you're pedaling like a normal human, not a hamster). The best are designed so they can also roll when folded so you only need to carry them when going up or down stairs, etc.

Our Most Popular Bike Brand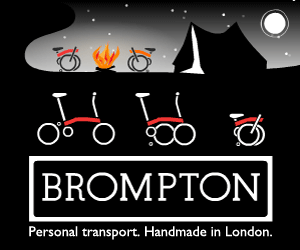 Brompton Bicycles
By far, the most popular BICYCLE we sell is the Brompton. Each Brompton is custom built to order to suit YOUR particular needs. In fact, I attribute Brompton's popularity to their versatility, quality and durability. Bromptons have a higher carry capacity than most bikes on the market. Bromptons have a longer warranty. Bromptons fold so small that they fit in the overhead bin on most airliners; yet, they ride like regular bicycles. Bromptons can be built to fit kids, adult basketball players and many people in between. Click here to learn more about the advantages of a Brompton. Also, here's a link to details and pricing about some Bromptons in stock.

Montague Bicycles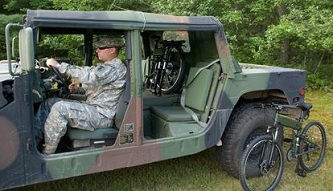 If you can't wrap your head around a bike with small wheels, the second most versatile bike brand on the market is the Montague. Montague makes standard sized road and mountain bikes with one critical distinction - they fold. Like the Brompton, there is no descernible flexing of the frame. In fact, all current Montague bikes are descendents of folding bikes that were designed about 20 years ago for US Special Forces. In Afghanistan, Iraq, Kosovo and more, US paratroopers have jumped with Montague Paratrooper bikes strapped to their chests. While descending, the bikes were released on 30' long drop lines so the bike hits the ground first, allowing the paratrooper to land without injury. Paratroopers then unfolded the bike and biked out of the landing zone, getting out of the danger zone faster than they could on foot.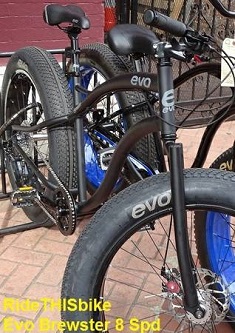 To see Montague's current line of pavement and mountain bikes, click here.

Please note that we also stock other folding bikes (including high performance bicycles that fold like the Reach, folding e-bikes like the VeloMini, folding belt driven bikes like Stridas, and even adult folding trikes). Naturally, we offer traditional city bikes, hybrids, fat bikes, cruisers, tandems and other bicycles too.

Thanks!
Thank you for taking the time to learn more about our bikes for sale. We look forward to serving you and invite you to return again.