Order Your Own Strida

Following are photos and links to more about all Strida bicycles in stock (go straight to the list now).


What's Special About A Strida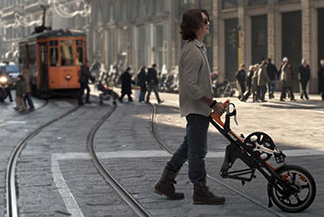 Designer Mark Sanders understood that commuters yearned for a low maintenance bicycle that they could take on the train, bus or subway. In 1987, he invented the Strida to be a simple, commuter friendly bike. He substituted a clean & greaseless kevlar belt for the standard, oily chain and used internal drum brakes instead of brake pads that rubbed on the outside of the wheel rims. But his most radical solution was his reinventing of the bike frame itself. Mark pared the frame down to just 3 tubes of aluminum that looked like a triangle with wheels. On demand, the frame folds in seconds into a stick about as long as a walking cane but with 2 wheels that roll easily down the narrow aisle of a bus, etc.


Light
Weighing in at as little as 22 lbs, the Strida is a very light folding bike. Only a few other production bikes that fold weigh less (see Lightweight Folding Bikes - Top 5).


Attention Getter

Strida's distinctive, minimalist, 'A' shaped, collapsible-frame design and beautiful finish make you a trend setter simply by association. Talk about making friends and influencing people... not only is the Strida a date magnet; just owning one may gain you a pay raise ;-)


Fast Folding
In a hurry? One, split second step folds the Strida's frame. Ride right up to the door, dismount, fold the bike and either roll or carry it inside. Magnets and a smart design keep things together (for a smaller footprint or storage, folding the pedals and handlebar ends take just a couple of seconds more).


Street Worthy
The Strida's wheels take potholes, curbs & cracks better than the smaller wheels of other folding bikes. Nimble, the Strida's low weight provides faster acceleration and effortless maneuverability. Disc brakes stop you on a dime in all weather conditions.


Low Maintenance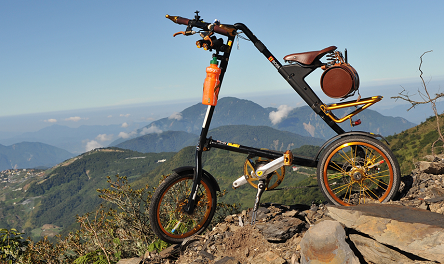 The Strida's Gates kevlar drive belt and disc brakes will last virtually forever. With disc brakes, the sidewalls of the wheels do not wear down.


Time Tested
The Strida folding bike brand has been sold for about 3 decades. Continual, incremental improvements over time make these the best performing and most durable Strida folding bikes ever. The Strida has withstood the test of time, developing a worldwide fan base.


Highly Portable
When folded, the Strida rolls like a wheeled walking stick, easily navigating through crowds. The Strida's combination of light weight and bundled-stick folding design make it simple to carry free of the straps or bungees other folders need to stay folded. When you set it down, the Strida rests on the wheels and rear carry rack, preventing the frame from getting scratched. Folded or unfolded, arrestor loops built into the handlebars slip over the brake levers, preventing the Strida from rolling. Lean your Strida against the wall of an elevator, subway car, etc. and it will stay put.


Awards
The STRiDA has won many awards including ID Magazine's prestigious Design Review award, Cyclex awards, and Millennium Product awards. It is displayed in several design museums worldwide including London's Design Museum and Nijmegen Fietsmuseum, Holland and the New York Museum of Modern Art retail collection.


How To Order
To view specifics about any Strida bike via point and click on our website, click the link below for the bike that you interests you, click the "Add Bike To Cart" button for your total. You may either complete the order online securely via our shopping cart or call us with the details. We'll send you a confirmation email with an estimation of when we'll have your Strida. Payment details can be relayed by phone or a secure, online invoice. Bikes are only shipped once they're tested and tuned. Shipping within the Continental USA is free and sales tax is only charged for sales delivered within the State of Louisiana.


Test Rides
If you're in New Orleans, stop by and try a Strida for yourself. We offer free test rides and you can try different models.

Should you elect to get a Strida, shipping is free within the Continental USA and we don't collect tax on purchases which are shipped outside Louisiana. That's a sweet deal all around!