Answers: The Locust Folding Bike
An Interview With Folding Bike Designer Josef Cadek
By Larry Lagarde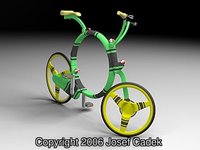 Within the last several months, a flood of websites I follow (including
TreeHugger.com
,
EcoGeek.org
&
GetOutdoors.com
) have promoted the next evolutionary leap in bicycle design as the Locust (a folding bike design concept by Czech designer Josef Cadek). Curious to learn more, I Googled "Locust folding bike" and "Josef Cadek" but every site I visited seemed to rehash what I had already found. Determined, I went straight to the source and emailed Josef Cadek, who was kind enough to answer a variety of questions I had asked as well as send the photos displayed in this story.
Q: Why did you design the Locust folding bike?
A: I used to race bicycles (road and track) and that is why it was always my goal to design some new, unusual bike. I consider the folding bike something very useful and practical, but most of the available ones have lots of compromises.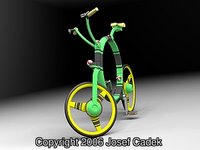 In my work, I am always searching for new ways to solve problems and issues, ways that have never been tried or ever considered. For example, the bicycle was first invented over 100 years ago. Over the years, many bicycles have been designed and many engineering and design solutions have been applied, with time and experience determining which ideas worked (with the rest relegated to museums). Under these circumstances, it seems hardly possible to create something new, fresh and innovative; however, this challenge is exactly what excites me - creating new thoughts and things for future.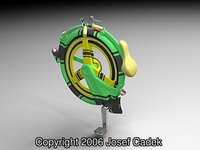 Q: How did you come up with the radical design of the Locust folding bicycle?
A: When I design a product, form follows function. I always look for the "inner meaning" of things to determine which design allows the product to work best. As a result, the appearance of my designs is always the conclusion never the starting point.
The idea behind the Locust was developed in a very analytical way: I asked myself what parts of a normal bike can never fold? Wheels, of course. So everything else must be subordinated to wheels...and from this idea it was clear to me what shape the bike will have. Also, one of my core objectives was to keep "classic conservative geometry", using the biggest wheels possible to achieve the easy handling and feel of a normal bike.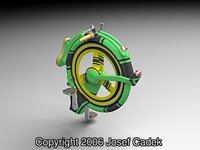 Q: How did you come up with the name "Locust"?
A: Locust was the first name that came across my mind when I had completed the first sketch. Somehow, the design reminds me of a locust and the name stuck.
Q: What is the target market for the Locust?
A: Everyone. Kids commuting to schools, students on campuses, families, car users (it could be a trunk bike) and even businessmen in cities...
Q: How long have you been working to get the Locust folding bike built?
A: It is over the year now. I know it is hard and it might take a while.
Q: What material do you envision using for the Locust's frame?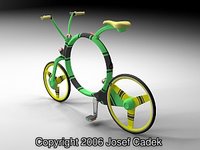 A: Molded plastic; it keeps the weight and price low. Materials like carbon fiber would move it to the category of exclusive and luxurious goods and I do not want that to happen.
Q: Have you ever rode a folding bike?
A: I have rode on a couple of different models but I don't own any.
Q: Do you have a favorite folding bike (among those now commercially available)?
A: No. I was not happy with any. I do have a racing bike and will also be the owner of the Locust folding bicycle with serial number 0000001. :-)
Q: Have you received many inquiries about the Locust?
A: I am constantly receiving questions from all over the world about availability, weight, colors modifications etc. People want it and there is huge business potential in it. Companies want to sell it and I have received offers for distribution in the UK, EU, Asia etc...
Q: What's your goal for the Locust folding bike?
A: To see it in the streets. Everything else is just details.
If you are interested in other figures, numbers about it etc, just email me.
Q: I see that you have other designs on your website. It looks like you specialize in transportation designs; is that correct?
A: Sort of, I studied in Prague at CTU (Czech Technical University) faculty of transportation science. Thus, transportation design is the main sphere of my design work, but I have done other projects as well (household products and baby products for example).
Q: What is the spark that inspires your designs?
A: I love creating something with my brain, hands, mind and soul. This "human touch" moves things from just an idea to creation and that is the most beautiful thing about design. I'm inspired by everything; all I see, think of or about. Perhaps I just see more possibilities or I think in different ways than others do. I have often wondered how ideas come and how a thought develops for a new design, but I can not really explain. It is hard work, practice, education and sometimes good luck. Altogether, it is called talent I guess.
Q: How old are you?
A: I am 26.
For the record, following is Josef's "official" overview of the LOCUST project:
LOCUST FOLDING BIKE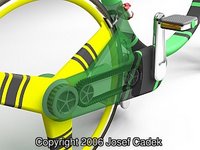 Design offers a full-valuable bike that can be folded, stored in small spaces (cases, car trunks). Main feature is the circular frame allowing unusual folding. Both wheels have overhung mounting. After releasing safety lock nuts, wheels are turned around relevant axis into frame. Because rear wheel folds, momentum transfer from crankset to rear wheel must be divisible. Common chain system is replaced by belt system with outer toothing. Belt is mounted on two rollers. Both "Chainwheel" and pinion have outer toothing, ensuring right direction of turning and divisibility of the whole system.
Rear hub contains internally geared hub similar to Shimano Nexus system. GripShift type shifting. Red safety lock releases saddle support to fold saddle down towards frame. To fold handlebars, first release revolving safety lock nut on top of head set. Handlebars can then be moved back towards frame. Bike is equipped with disc brake in front and clamshell brake at rear, preventing blockage of wheel folding mechanism. This bike will be welcomed by people in traffic-ridden cities, young people, students on campus. It can be used to good effect in large industrial facilities, airports, city centers as a rent bike or as a "parasitic" means of transport: user can park her/his car outside city center and bike to work. Colouring is designed with safety in mind.
Josef is looking for investors to bring the Locust to production. For more information about the Locust folding bike, contact...
Josef Cadek
Pod Strani 2159/17
Prague 10
100 00
Czech Republic
Europe
josef_cadek@yahoo.com
www.coroflot.com/josef_cadek
tel: 00420 603 97 36 19
Story copyright ?? 2007 RideTHISbike.com d.b.a. Areafocus, Inc. All rights reserved.
Photos in this story copyright ?? 2006 Josef Cadek. All rights reserved.
Labels: bike pics, design, folding bicycle, folding bike, interview, Josef Cadek, Locust