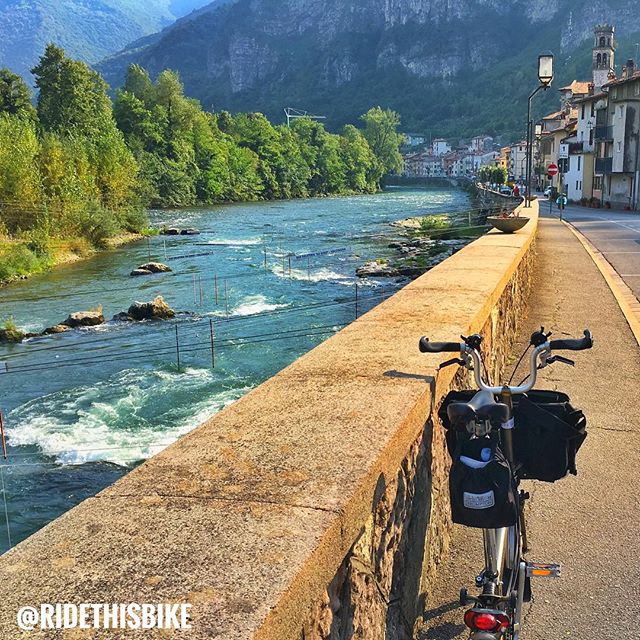 At it's very heart, this bicycle tour of Northern Italy is a voyage of discovery, an exploration of a way of living that Italians call "La Dolce Vita" (the good life). But what exactly does that mean?

Living the good life means living to the fullest, enjoying beauty in all its forms - food, wine, scenery, architecture, culture... So yes, we'll be riding through the Alps but not pedaling over them. Instead, we'll take passenger trains and buses up into the high valleys, riding downhill at an easy pace with the help of gravity.

Since only 10 guests are allowed on the tour, we can stop and start pretty much as we please. If a fortified town, castle or winery catches your fancy, there will be time to explore. But there's more.

Besides incredible bike trails like nothing you've seen, we'll attend the Palio of Castelfranco, one of the most famous and oldest medieval pagents in Europe. We'll explore Venice. We'll walk the passeggiata, a tradition across Italy. And when we pick up our loaner bicycles, we'll tour the Brompton factory in London, where you'll discover that British ingenuity and craftsmanship continue to thrive.

Is This Tour For You? Ask yourself...
- Are you burnt out from work?
- Are you ready to do something you can't do at home?
- Are you open to making new friends sharing a fabulous bottle of wine or an incredible sunset?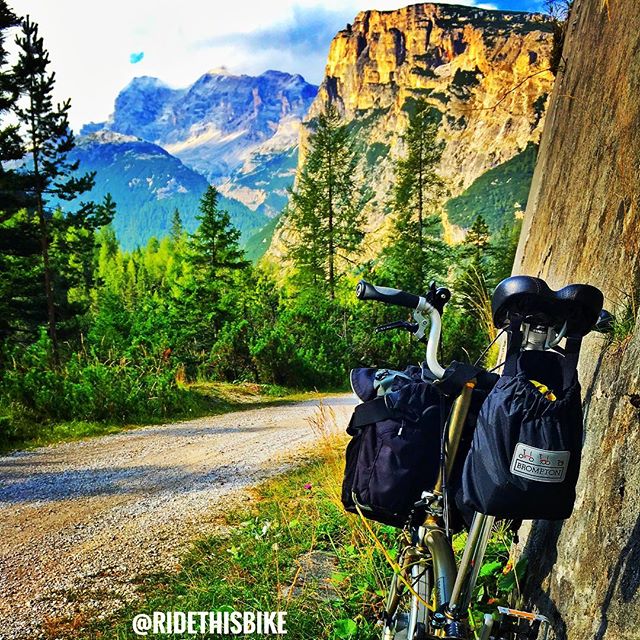 - Can you smile and ride a bicycle at the same time?
If you answered yes to any of these questions, you'll have the time of your life on our tour.

So no matter whether you're a retiree that rides a bike for recreation or a world-class athlete, this could be your once in a lifetime opportunity to experience life as it should be.

And If You're Still Uncertain, Ask You Dr.
As a rule, most people are healthy enough for the physical exertion that comes from cycling at a moderate to easy pace. In fact, typically after a bike ride, there's a feeling of euphoria from the natural, morphine like chemicals that our bodies secrete through exercise. But if you're uncertain whether your body is up for this, by all means, get that second opinion from your doctor. And once you get the green light for some great sun and fun in the mythical Alps of Northern Italy, contact us before all 10 spots are taken.

Discovering La Dolce Vita - RideTHISbike's Brompton Tour of Northern Italy

Discovering La Dolce Vita - Tour Overview:
Tour Dates: Tuesday, September 5th - Wednesday, Sept. 13th, 2017
Tour Meet Time: 1:30 PM* (Brompton factory floor tour in London)
* For those not taking the Brompton tour or using loaner bikes from Brompton, you may fly directly to Treviso Italy (30 minutes from Venice) for the start of the cycling tour and check into our hotel Tuesday afternoon or evening.
Bike Tour End: Brompton factory in London
* For those not taking the Brompton tour or using loaner bikes from Brompton, it is unnecessary to return to London (unless your flights route you that way). When the group checks out of our lodging in Treviso on the 13th, you're on your own to continue as you please. The nearest major international airport is Venice (Marco Polo), Italy.

Book Your Tour NOW Tour participation is limited so we recommend that you book your spot at the soonest opportunity by calling us at 504-324-2492.

To get all the details about the tour or to book online, click the following link:
Discovering La Dolce Vita - RideTHISbike's Brompton Tour of Northern Italy