Bigfish Folding Bike
3 Spd Nexus, Fenders, Folding Pedals, Kickstand & Bike Bell... $589
Bigfish is the new European entry in the folding bike category.
Although most folding bikes are made these days in Asia, the Bigfish is strictly a European product. A combination of old world charm and hip Euro fashion, the Bigfish is notable for a variety of reasons.
Visually Appealing
Unlike most folding bikes with small wheels, the Bigfish has appealing, cool & curvy looks. It's folding style makes it compact for storage and portability yet unusually thin when folded.
Functional
The Bigfish folding bike has the geometry of a full size bike; yet, for storage or transport, it folds quickly to about one fourth the size of a typical bike. Like Brompton and Mobiky folders that cost twice as much, the Bigfish rolls when folded. It's also the only bike with a solid, 4 point stance when folded, making it the least likely of any bike to get knocked over when not in use.
Quality
Made in Italy (the land of Bianchi), the Bigfish is well made with specially machined parts. Unfold the bike and it "click, clacks" together, providing audible reassurance that everything is locked in place and the bike is ready to ride.
Durability
On the Bigfish, the wheels are designed to fold and nest within the tubes of the bicycle frame. Not only does this protect the wheels when the bike is folded, it also makes the bike more durable. The rear coaster brake requires no cable or levers (just pedal backwards) and the gears are protected inside the rear wheel hub, decreasing maintenance and maximizing the life of the drivetrain.
Trendy
Folded or unfolded, the Bigfish fits in. Take it to an outdoor cafe, tuck it beside your desk at the office, or simply ride it for a breath of fresh air.
Smart
The Bigfish folds small enough to fit in the trunk of a Mini; yet, rides like a comfort bike with 26" wheels. When folded, you can roll it down the aisle of a transit bus. When riding, you can change gears whether moving or stopped, pedaling or not. And if you get caught in the rain, the alloy rain fenders will keep you clean.
WEIGHT
Bike only: 27.5 lbs
FOLDING TIME
Folding Time (front wheel): 2 seconds
Folding Time (front & rear wheels, seat & handlebars): 10-15 seconds
Max Rider Weight with High Pressure Tires: 240 lbs
Rider Max. Height: 5'11"
DIMENSIONS
Folded: 40" x 26" x 12"

FRAME
Main: Aluminum alloy (will not rust!!!)
Handle Post (Stem): Alloy 2 piece; folding type
(folds in seconds with no tools required)
Seat Post: Alloy; adjustable in seconds with no tools required; removable

COMPONENTS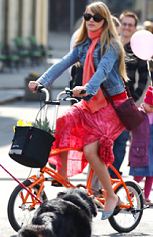 Front Fork: Aluminum alloy
Seat Post: Alloy with quick release
Saddle: Black
Brakes: Rear coaster brake/front v-brake
Chain: KMC Z 30 anti-rust type chain
Spokes: Stainless Steel
Number of Spokes: 20
Tires: 16" (305) 45 PSI road tires
Rims: Alloy 16"
Pedals: Resin type; folding
Kick Stand: Painted steel
Reflectors: Front, Rear and each wheel

OPTIONAL ADD-ONS
- Slip Cover (just $30.00 when purchased w/bike) - RECOMMENDED
Nylon cover slips right over bike and cinches shut at the rear wheel with a drawstring closure. Great for taking your bike on mass transit or keeping it clean in storage. Color: black
ASSEMBLY
The Bigfish ships completely assembled; however, it's always a smart idea to have a local bike pro check the bike as things can shift during shipping.
Ships FREE Lower 48 US only. Call 504-324-2492 or email us for shipping quotes to Alaska, Hawaii, APO's & Canada.

More about the Bigfish
Video: How to Unfold the Bigfish (30 sec)
Disclaimer: Every effort has been made to ensure the accuracy of the info on this page; however, specifications, features, colors and pricing are subject to change without prior notice. To learn if there have been any recent changes that have not yet been published to the site, just call or send an email.