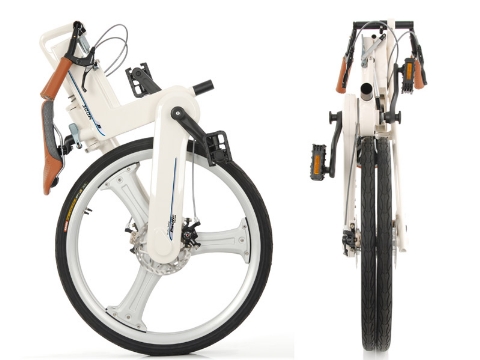 Basically, a folding bike makes it easier to go bicycling more often to a wider variety of places and with fewer worries about storage or theft.

Your Passport To More Places
Unlike standard sized bikes, folding bicycles can be carried aboard trains, ferries or buses and stow away easily in car trunks, small planes, RV's and boat holds. Folders are also allowed in places where normal bikes are refused (apartment buildings, post offices, grocery stores, banks, restaurants, shopping malls, office buildings, elevators, escalators, etc) and can be stashed discreetly into a carry bag if you wish to remain inconspicuous. Some bikes even fold into a suitcase that can be checked onto an airliner.

De-clutter Your Garage
You can buy a bike that folds tiny enough to fit in the smallest car trunk, under your desk at the office, in a cubby hole in your dorm room or even in a luggage locker; yet, riding the folding bike is like cycling on a full size bike. Some folders even adjust to the size of the rider, allowing families to cut down on the number of bikes in the garage or carport because the same bike can be used by a child or adult.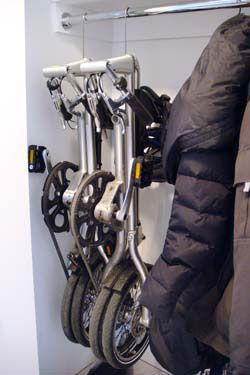 Thieves Hate Folding Bikes
Bicycles tend to get stolen when they're unattended. Since your folding bike is allowed to stay by your side rather than out on the street, thieves have fewer opportunities to steal your bike. No more walking back to your bike only to find a cut lock!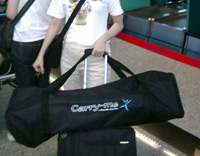 Lighter, Stronger, Better
Within the last few years, new technologies and materials have made folding bikes easier to ride, faster to fold, lighter to carry, smaller when folded, more suitable for riders of various heights & weights, and sturdier too.

Fold Compactly Yet Pedal Normally
Although some folding bikes have small wheels, the better models of micro folders (CarryMe, E-Z Pack, Mobiky, Strida) are geared to compensate for their smaller than usual wheels. The result is a bike with a ride equal to a traditional, full size bike that is also easy to store, theft resistant and easily transportable.

Make Public Transit Even More Practical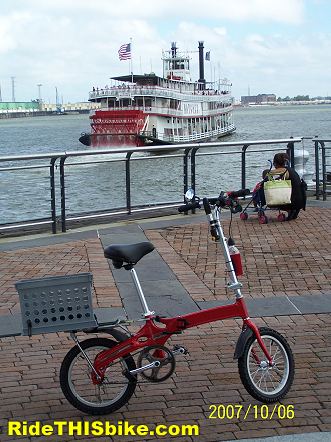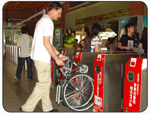 Many folding bikes are small enough to take with you on public transportation (planes, trains, subways, buses, taxis, escalators, elevators, etc.). CarryMe, Mobiky and Strida folding bikes roll even when folded and they can easily be stowed away in the smallest car trunk, under your desk at the office, in a dorm room or even in a luggage locker. Additionally, with little or no disassembly, they'll fit in a suitcase so you can check them onto your next flight and go for a bicycle ride at your travel destination.

Useful Folding Bike Accessories