Folding Bicycle Info...
About The Giatex
Among the variety of folders on the market, the compact Giatex 16" folding bicycle offers the best combination of riding flexibility, portability, warranty and price.
Flexibility
The Giatex folding bike is best suited to accommodate all rider types and sizes. Through a unique, patented design, the Giatex's frame, seat, and handlebars adjust to the exact needs of the rider. Weighing just 27 lbs, the bicycle is as easy to hoist into the rear of your Ford Escape, Volvo XC90, Lexus RX 330, etc. as it is to carry up the steps of the subway or to your apartment. Unlike other folders though, the bike rolls when folded; therefore, the need to carry this bike if far less than that of other folders.
Portability
When folded, the Giatex accommodates most traveling and storage conditions, fitting in your closet, under your office desk, in the corner of you apartment living room, in the trunk of your car/suv or even in a suitcase.
Price
Priced at about $300, the Giatex will pay for itself soon after you buy it. While others are paying for gasoline to commute, you'll cruise along free, getting healthier in both body & mind.

Improve Your Life
Rediscover the subtle joys of life. Buy a folding bike today.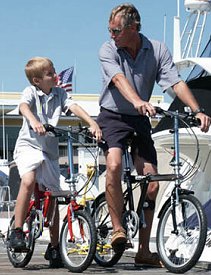 Easy to ride. Easy to store. Easy to transport.
Fits adults or kids.
Bicycling offers a joyous, exhilarating freedom & satisfaction that can be shared with your family and friends or savored alone. There's a sense of direct participation, strength and pride simply gliding along on a bike.
Giatex folding bikes are easy to ride.
Our bike's unique frame makes it simple to get on or off the bicycle. The hybrid tires, rain fenders and lower gearing lets you ride more comfortably under a wider range of conditions.
Giatex folding bikes are easy to store.
Our bike goes from full-size to pint size in 10 seconds. Simply flip open 3 quick release levers, retract the stainless horizontal frame member, slide the seatpost down and the bike now measures 27" high by 39" long by 11" wide, allowing it to easily fit into a standard car trunk, closet, carry bag or even a suitcase. While thieves and vandals roam the streets looking for easy targets, your bike is stored safely out of sight.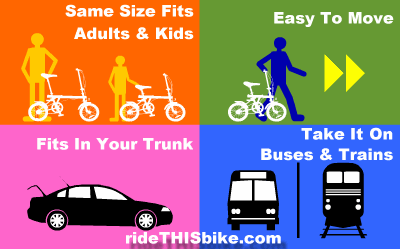 Giatex bikes are easy to transport.
Placing the Giatex inside a bag or a suitcase makes it completely acceptable to take your bike on just about any bus, train or subway. Unlike other folding bikes, the Giatex also rolls normally when folded, making it easy to move in confined places such as office corridors, elevators or hallways in your home, apartment or dorm.
Giatex bikes fit kids or adults.
Due to the Giatex's patented retracting or stretching frame, our folding bike is unique among folders in that the space between the front and rear wheels adjusts to the size of the rider. Naturally, both seat and handlebar height are completely adjustable too. As a result, adults and children can ride the same bike equally, a major & practical advantage for families with limited storage space.
Reclaim life's simple pleasures.
Delight in experiencing again the beauty of your natural environs.
Inhale the smells of wildflowers and backyard barbecues.
Feel the cool morning mist upon your face.

Renew your spirit.
Delight in the peace and silence of locomotion without motors.
Savor quiet wildlife encounters impossible raveling by car.
Enjoy the glorious sight of gorgeous, dramatic sunsets.

The Giatex folding bike fits your lifestyle.
It's Sporty. It's PORTable. It's S*PORTABLE!
About the Giatex folding bicycle...
• Full-size bicycle that converts to portable size in 10 seconds
• One size adjusts to fit adults or kids
• Fits in a suitcase w/minor disassembly
• Revolutionary, sturdy design; weighs only 27.5 lbs.
• Ships to USA (lower 48 states) & Canada
Using an award winning, patented design, this 6-speed bike stretches to fit the size of the individual rider. Engineered to last, it features a Shimano derailleur, V-brakes, 16" wheels, 2-tone comfort saddle, folding pedals, kickstand, reflectors and a bicycle bell. The bike is available in your choice of either Black, Yellow or Charcoal.