Bicycle
sales, service, rentals & tours.
The French Quarter's only full service bicycle shop.
504-324-2492
Daily 10am to 5pm (closed Tuesdays)



231 Dauphine St, New Orleans, LA. 70112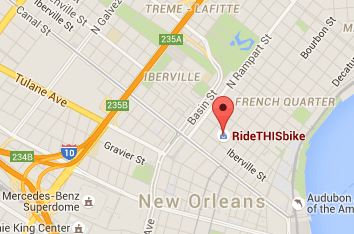 directions
Just 1 block off Bourbon.
1 1/2 blocks off Canal St.
Between the Ritz Carlton & Holiday Inn Maison DuPuy.
Locally owned and operated too.
© RideTHISbike 2005-2018
Site template by TEMPLATED.