Bike Sale: 3G Cruisers 1 Year old or less! - $199 w/$50 store credit (French Quarter location)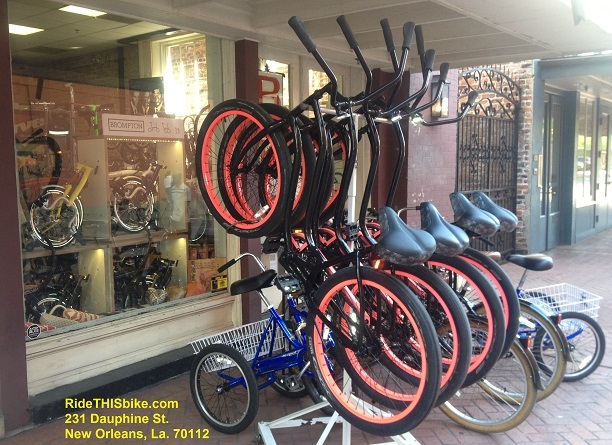 RideTHISbike is a brick and mortar bike shop located in New Orleans' historic French Quarter. The bicycle shop is just 1 block off Bourbon Street and 1 1/2 blocks off Canal St.
RideTHISbike sells, rents and services bicycles.
Our specialties are folding bikes and cruisers. We're proud to offer brands such as Brompton, Montague, Nirve, Strida, 3G and more. We also stock an assortment of common bicycle parts and accessories (bike tubes, pumps, bells, lights, locks, etc.) as well as items that are unique to specific folding bikes.
When you order a folding bike from us, our bicycle shop offers free shipping (within the continental USA). We also offer other bike shipping services (such as packing, unpacking, tuning for races, acting as your local ship to or pick up address, etc.
The shop is open from 10am to 5pm daily (closed Tuesdays).
Whether you're looking for a bike shop that offers bicycle maintenance, repairs, parts, accessories, bike rentals or are looking to buy a new or used bike, we welcome your visit and are happy to answer your questions and serve you.