Places To Go Bicycling - Tuscaloosa, Alabama
by Larry Lagarde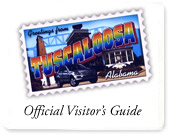 Located in northwest Alabama about 60 miles west of Birmingham, Tuscaloosa is best known as the home of the
University of Alabama
(Crimson Tide), several large hospitals and the place where Daimler-Benz produces the Mercedes-Benz M-Class SUV. In existence since the early 1800's, Tuscaloosa is more than simply a college town. A former capitol of Alabama, Tuscaloosa offers over 20 points of interest including museums and antebellum homes.
Places To Go Bicycling In Tuscaloosa
According to Stephanie Roberts at the Tuscaloosa CVB, Tuscaloosa offers three great places to go bicycling:
River Walk
,
Lake Lurleen
and
Sokol Park
.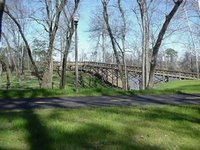 River Walk
Since 2002, Tuscaloosa has been working on a 13 mile biking and walking trail along both banks of the Black Warrior and North rivers. Though only a portion is complete, the trail is developing into a recreational attraction that links the University of Alabama (UA) with shopping & dining opportunities downtown.
(Photo: Bridge on the River Walk Trail.)
Lake Lurleen State Park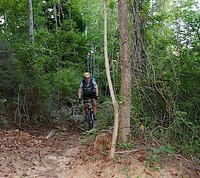 Located 9 miles Northwest of Tuscaloosa and 14 miles from UA, mountain bikers like Lake Lurleen's approximately 15 miles of multi-use trails. Lake Lurleen also offers a campground, fishing & boat rentals.
(Photo: Mountain biker a riding single track trail at Lake Lurleen.)
Sokol Park
Located on the north side of the Black Warrior River off of Watermelon Rd, Sokol Park offers @ 14 miles of mountain biking opportunities including challenging and technical sections which are sometimes steep.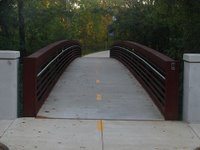 Getting There
Tuscaloosa is served by both I-59, Amtrak's
Crescent
and a regional airport. The Amtrak station is only a few blocks from downtown; both the university and the River Walk are just a mile away. (Photo c/o
David Smith
: River Walk bridge.)
More Bicycling Info
For additional info about cycling in and around Tuscaloosa, try...
The Bicycle Shop
1408 University Blvd
Tuscaloosa Alabama, AL 35401
Ph: 205-758-4906
More Sports/Fitness Info
Stephanie Roberts
Director of Sports Marketing/Public Relations
Tuscaloosa Convention & Visitors Bureau
Ph: 205-391-9200
http://www.tcvb.org/
Places To Go Bicycling is a new, weekly feature of RideTHISbike.com.
Labels: Alabama, Amtrak, Crescent, places to go bicycling, Tuscaloosa