Bigfish Folding Bike On Amtrak
by Larry Lagarde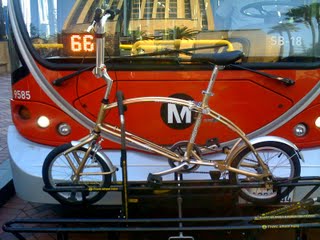 This weekend, I took a brand new, European made
Bigfish folding bike
aboard Amtrak's Southwest Chief from Los Angeles to Albuquerque to catch the famous
Balloon Fiesta
.
Photo right:

Bigfish (unfolded) on a bus at Amtrak's Union Station in L.A.
The Bigfish folds so small that the train conductor allowed me to carry it on board. In fact, no one had a clue that a bicycle was inside the soft sided carry bag slung over my shoulder (one of the train's attendants thought it was a musical instrument).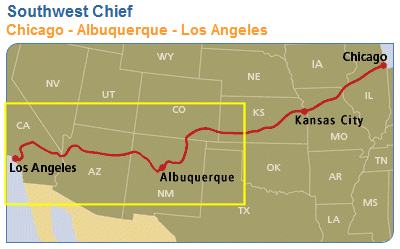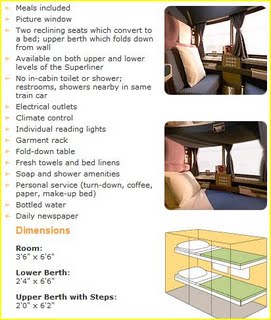 During the journey, I upgraded from a coach seat to a roomette in the sleeper (see details & photos right). The sleeper was 4 rail cars back so I hauled my gear from the coach car to the sleeper to keep everything together. To move the bike, I unzipped the carry bag enough to allow the rear wheel to roll. Holding the bike by the front stem, I levered it 90 degrees, then wheeled it through the moving train on the back wheel like a unicycle.
The Bigfish folds so narrow (about 8") that rolling the bike folded through the moving train was a breeze. Even navigating the nimble Bigfish folder between rail cars and through the zig zag maze of double and single recliners on the Cafe Car's upper deck was easy and safe. I'd compare it to rolling a folded umbrella stroller.
As the train came into Albuquerque, I unfolded the Bigfish in the sleeper car's lower vestibule, installed a seat post rack, panniers and strapped on my rolling suitcase. When the train stopped, I removed the folding bicycle from the sleeper car and pedaled through the city on my carbon neutral transportation, taking in the sights and sounds of Old Town before checking in at my lodging accommodations. Wanna see? Here's a 3 minute video from that bike ride. Enjoy.
By the way, more videos from this trip will be posted soon.
LL
Labels: Amtrak, BigFish-folding-bike, Southwest-Chief