Nice 1 Spd $159 Folding Bike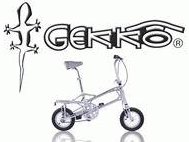 THIS BIKE HAS BEEN DISCONTINUED. OUT OF STOCK. Info is for archival purposes only.
"For a small, one-speed bike to ride short distances to bus stops, train stations, and stores, the Gekko is hard to beat." Dr. Folder (Steven M. Scharf)
Here's a Gekko that doesn't cling to vertical surfaces; however, unfasten the safety pin and this gleaming folding bike performs a high tech ballet, folding and compacting into a minimal size that stores just about anywhere and rolls even when folded.
Gekko At A Glance
• Affordable
• Sturdy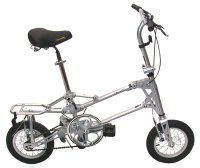 • Strong, built in carry rack
• Simple drive train
• Quick to fold
• Small footprint when folded
• Rolls when folded
• Easy to carry or store
• Includes black nylon carry bag.
When To Use A Gekko
Ideally suited for short range cycling,
the Gekko folding bike excels when...
- Cycling is just part of your multi-modal transportation solution.
The Gekko's easy/fast folding design, ability to roll when folded and convenient carry bag make it ideal for taking it on the bus, subway, train, boat, private plane or even in your car.
- Access is normally restricted.
Thanks to it's shiny good looks, unusual appearance, transit rollers & carry bag, the folded Gekko gains entry in situations in which concierges, supers or building managers would otherwise not allow a bike.
- Running errands nearby.
If you have places to go in the neighborhood but time is too short to walk, hop on your Gekko. If you're going a mile or less, you'll get there faster and don't have to worry about locking it up (because it's right beside you).
- Stranded in your car.
If you're car stops running and help is far from coming, pull the Gekko out of your trunk and you can be riding in seconds. You'll get a lot further than walking and if you're in a bad neighborhood, you'll be less of a target and out of the area a lot faster.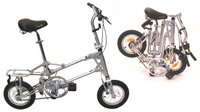 Folding & Unfolding
The folding mechanism is among the most user-friendly on any folding bicycle - just spin out the safety pin and fold. Essentially, the frame folds in towards the seat tube at 12 points (like an inverted umbrella). Rollers at the bottom of the seat tube allow the Gekko to stand in place when folded and also make it easy to push/pull the bike so you don't have to carry it. To unfold, pull up on the seat and the bike slides open. Once fully open, insert the safety spin and spin it tight.
Handling & Ride
Given the number of fold points, the Gekko is surprisingly sturdy and the ride is similar to a full size bicycle. The low maintenance single speed drive train and 52 tooth chain wheel results in the speed of a standard, single speed bike with similar effort. The alloy V type brakes provide effective stopping power and the integrated rear carry rack holds far more weight than racks on other folding bicycles.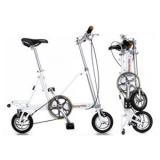 How It Compares
The most similar bike to the Gekko is the
Carry Me folding bike
(see photo, right) by Pacific Cycles. Though the Gekko costs $350 less than the Carry Me, the bikes have similar design elements (single speed, small wheels, folding pedals, rollers to assist when folded). The Carry Me folds into a long shape like a golf bag while the Gekko folds into a square shape. Unfolded, weight and riding stress is evenly distributed through the Gekko's beefy tubing whereas the Carry Me's seat and handlebar posts are supported at the upper end by thin metal tubes.
Price: THIS BIKE HAS BEEN DISCONTINUED. OUT OF STOCK.


Labels: folding bike, Gekko