Katrina Recovery Czar Leading Another Bike Tour
New Orleans Recovery Czar To Lead Bicycle Tour June 3rd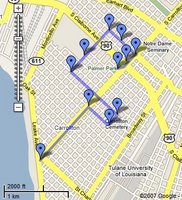 Dr. Edward Blakely, the Executive Director of Recovery Management for the City of New Orleans, will continue his series of neighborhood bike rides at 2 p.m. on Sunday, June 3. This ride will focus on the Carrollton area, and will begin at the corner of Saint Charles Avenue and South Carrollton Avenue (Image: expandable Google Map of bike tour route; click map to zoom in).
The bike ride tours are part of an effort to engage all New Orleans citizens in the Hurricane Katrina recovery process. The rides also provide participants an opportunity to see places outside their own neighborhoods. The public is invited to participate.
The Bike Tour Route:
Start Tour: 2:00 PM
- Gather on top of the Levee at St. Charles and Carrollton before we proceed to the starting point.
- Gather again at the Carrollton Monument located behind the fountain across from Cooter Browns.
2:05 PM: Bike downriver on St. Charles, one block to Short St.,
- At Short, turn Right into the "Black Pearl" neighborhood.
- From Short, turn Left on Pearl for two blocks.
- From Pearl, left onto Burdette,
- On Burdette, cross St. Charles and go two blocks to Maple.
- Left on Maple for 3 blocks,
- On Maple, cross Carrollton Ave. Go one block to Dublin,
- On Maple go west one block to Dante, turn right on Dante for one block.
- From Dante and Burthe turn left, go one block,
- Right onto Cambronne, view St Joan of Arc School.
- Continue north on Cambronne to Oak St., turn left on Oak.
- From Oak, right onto Eagle, view portions of Pigeon Town.
- From Eagle, right on Willow, view the Street Car Barn at Willow and Dublin.
- Continue on Willow, cross Carrollton, turn left on Carrollton.
- From Carrollton, turn right onto Birch.
- Left onto Adams from Birch
- Left onto Hickory from Adams, continue on Hickory and cross Carrollton Ave
- Continue on Hickory to Leonidas.
- Right on Leonidas to Claiborne (cross Claiborne)
- Right turn onto Apple from Leonidas
- Right turn onto Carrollton from Apple
Finish: Carrollton to Claiborne (Palmer Park)
Labels: Dr-Ed-Blakely, Katrina-Bike-Tour