BART Invites Folding Bikers Aboard
by Larry Lagarde
Thinking about cycling in the San Francisco area? Here's some good news for you. Bay Area Rapid Transit is actually encouraging mass transit users to take folding bikes aboard their BART light rail network.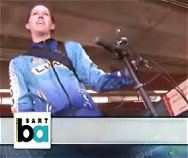 BART recently released a video profiling a woman cyclist that uses her folding bike in combination with rides on BART to commute and get around. The video is part of BARTtv News, an effort to communicate with more potential transit users via the Internet. (Watch the
BARTtv News folding bike video
)
In the event the video will not play, below is a transcript of the text because it touches on many of the reasons why folding bikes are becoming so popular.
Charlise rides a bike to the Pleasant Hill BART Station on her way to work in the city. But not just any bike. She rides a folding bike.

With just a few steps, Charlise transforms her ride into a portable carry-on. Unlike a traditional bike rider, Charlise is able to take her folding bike up the escalator. And, most important, Charlise can bring her bike on any train at any time because the folders don't take up as much space as traditional bikes.

"For me, working in the city with a normal nine to five job the blackout times don't work so the folidng bike is a great option."

If Charlise makes it all look so easy, well, maybe that's because she actually takes pleasure in getting to work. "Number one, I get to do the thing I enjoy most in the morning. Number two, there's no better way to get to work than by bike. I don't have to sit in traffic."

Once Charlise gets to Embarcadero, she's on the street and unfolding her bike in no time. A click of the helmet, ring of the bell, and she's on her way. The folding bike phenomenon is attracting more and more people like Charlise despite the bike's non-traditional appearance.
By using BART in combination with your folding bike,
Amtrak's Capitol Corridor train
, the ferries that cross the Bay and other local mass transit, it's entirely possible that all your local Bay Area transportation needs could be accommodated without ever driving a motor vehicle. Few other cities in the USA could make the same claim.
Although San Francisco does have some steep streets, the city offers rides for cyclists of all abilities including an incredible bikeway across the Golden Gate Bridge as well as bike trails along the bay shore and into the coastal mountain range.
Labels: BART, folding bikes on mass transit