Suitcase Folding Bike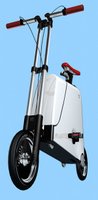 For several years, I have been hearing rumors about a folding bike that's integrated into a suitcase and is designed so that the wheels fold into the suitcase when not in use. Today, I received an anonymous message with the title "Coming soon" and the following computer generated sketches.
Below is a slide show of the images with accompaning descriptions. To view the caption for any image, mouse over the image when it appears and the caption will appear below the image. Additionally, you can enlarge an image by clicking on it.
The folding handlebars and handlebar stem remind me of Sir Clive's
A-Bike folding bike
but the wheels are larger (they look to be similar to those on a
Mobiky Genius
). I like the idea that the cranks are detachable and everything folds up cleanly within a rollable case. Certainly, this would come in handy for flying or for use on the subway...
So I put it to you: Is this really in production or simply someone's pipe dream? If it's for real, would you ride a suitcase folding bike. Let me know.
Labels: suitcase_folding_bike