Mobiky Genius Folding Bike - Bigger, Better
Larry Lagarde
Changes are in the wind at Mobiky. This evening, Isaac Cho at Mobiky USA confirmed that Mobiky will be dropping the Sturmey-Archer internal gear hubs in favor of the ever more popular Shimano Nexus hubs. Besides the Nexus 3 speed, Mobiky will also be offering the Nexus 8 or 9 speeds. Pricing is still being worked out. And there's more...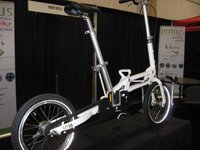 The 12" Mobiky will soon have a larger sibling. That's right; the Mobiky folding bike will be available with 16" wheels too. Take a look at this pic of the new 16" Genius folding bike; the bike was on display at Interbike several weeks ago.
Photo right: 2008 model Mobiky 16" folding bike w/Nexus gear hub (photo courtesy of Richard Masoner at
Cyclelicio.us
).
According to Isaac, the Shimano Nexus equipped 12" and 16" models will be available sometime towards the beginning of next year (probably late February). Too bad Mobiky couldn't get them here in time for Christmas '07; a white Nexus 8 equipped Mobiky with a red bow would look perfect next to my Christmas tree!
Labels: folding-bike-news, Mobiky-Genius