Rowed Trip: Seeing Europe Stroke By Stroke
A 4000 Mile Journey by Rowboat & Folding Bike
by Larry Lagarde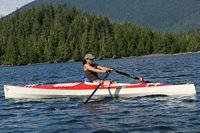 A Canadian husband and wife team are about to do the Rowed Trip, a 6,500 km human powered expedition from Scotland through Europe to Turkey and onto Syria. For transportation, they will use two, custom built, single person row boats designed by Colin Angus.
Starting from the northernmost tip of Scotland, the pair will row south in the open sea. When conditions are too dangerous or a portage is needed, they'll tow the boats with folding bikes and trailers that are otherwise stored on board.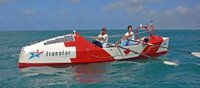 The team is composed of National Geographic Adventurers of the Year Colin (the first person to circumnavigate the globe only by human power) and Julie Angus (the only woman to row across the Atlantic Ocean from mainland to mainland).
A unique component of the expedition is the School Rowed Trip, an interactive and free program that promotes physical activity by challenging school aged children to match Julie and Colin's physical output. Educators and students are invited to participate in the initiative and over 20,000 students are already involved.
Colin and Julie seek to inspire youth to embrace active living, environmental stewardship, and rediscover the outdoors. To learn more or to register for the School Rowed Trip, visit
RowedTrip.com
.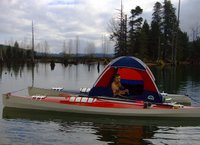 By the way, the bicycles being used are full size folding mountain bikes from RideTHISbike.com. Colin will be riding a flat black
SwissBike LX
; Julie is riding a baby blue Montague CX. The bike trailers have been specially fabricated by
Tony's Trailers
. At the end of the day, the two rowboats are lashed together into a catamaran using the frames from the bike trailers to form a platform for a tent.
Go team go!
Labels: Rowed-Trip