Folding Bike Race Photos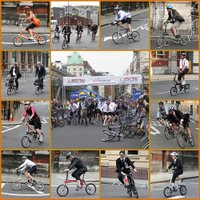 The
Smithfield Nocturne
is a series of bike races held on the streets of London. One of the races is strictly for folding bikes. Riders dash to their bikes from a starting line and then follow a street course in business attire (well, kind of).
Shown here is a collage of photos from this year's folding bike race at London's famous Smithfield Meat Market (credit for the collage goes to Flickr user "
Soggy Semolina
"; click photo to enlarge). The race took place this past weekend.
For more folding bike photos like this one, visit the
Small Wheel Society
photo pool on Flickr.
Labels: folding-bike-race, Smithfield-Nocturne