Update: Fantastic, Transforming Folding Bike
by Larry Lagarde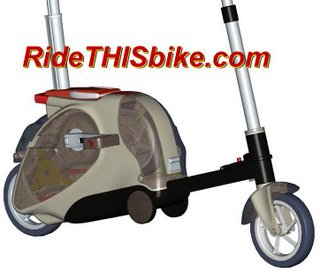 Last summer, a Chinese folding bike designer sent me some sketches of a new, extraordinary design for a folding bike he intended to produce. The sketch depicted a folding bike that was so small, so light, so fast to fold and so practical that it could possibly revolutionize personal mobility.
Naturally, revolutionizing anything (especially the bicycle) is hard so the odds are against bringing a new product like this to market; however, yesterday, I received word that this folding bike was set to go into mass production in the next 30 days.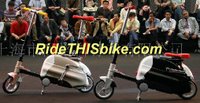 Following are a series of photos shot at a recent trade show in China of the Carryable Folding Bike. This 19 lb machine transforms in 10 seconds from a single speed bike into a rolling pod or capsule the size of a carry on bag. A retractable handle and special roller wheels are built into the design so the compact, encapsulated bike can be pulled along like a piece of luggage.
If what I'm told is true, this is the smallest, most ingenious folding bike yet. When folded, all of the bike bits that could potentially snag on clothing, etc. remain hidden and protected within the capsule's magnesium and plastic shell (which, in the folded state, resembles an art deco style floor vac more than a bike). But how does it ride?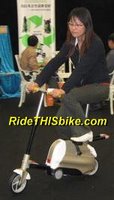 Since I haven't seen this folding bike in person, I don't know how well the bike rides but I have been offered a video of the bike in action. As soon as I get that, more photos or concrete specs, I'll be posting the info right here at RideTHISbike.com.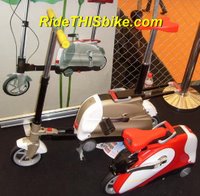 By the way, the rumor is that this bike will retail for $900. That's a lot more than the 22.5 lb $179
E-Z Pack folding bike
but a lot less than Mark Sander's new $2500
IF Mode full size folding bike
...