Electric IF Reach Coming Soon
by Larry Lagarde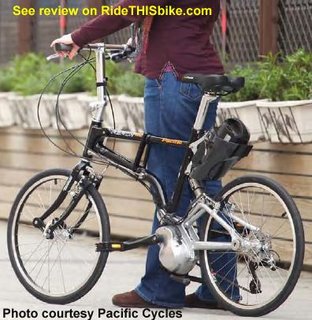 Yesterday, I received confirmation that Pacific Cycles was sending one of their brand new electric IF Reach folding bikes here for me to test and review. Due to arrive sometime next week, this will be the first IF Reach DC to hit American soil. Based on the specs, I expect it to be a huge hit.
Why This Bike Rocks
The IF Reach DC is among the lightest and most efficient of electric bikes; yet, this bike also folds effortlessly in 3 seconds, rolls folded, is fully suspended and has 8 speeds. In other words, this could be the ultimate commuter bike.
Light & Efficient Electric Bike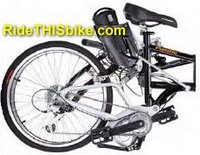 The IF Reach DC is said to perform as well as Currie Technologies' new, top of the line Izip Express; however, at 43 lbs, the IF Reach DC weighs up to @ 20 lbs LESS and will be available sooner (IF Reach DC's will be shipping in July; the Izip won't ship until Fall). In fact, Dr Yan of DownTube calls the electric drive "one of the best electric bicycle motors in the market." Here's Dr. Yan's video of the motor in action:
As someone that has ridden the IF Reach DC's predecessor (the Reach Trail), I can already vouch for the ride and performance of the non-motorized version. With the geometry of a full size bike yet possessing 20" wheels, the Reach is agile and swift. The same qualities should carry over to the IF Reach DC.
IF Reach DC Specs:
IF Reach DC weight including battery: 43 lbs (19.7 kg)
Range: 31+ miles (50+ km) per charge
Motor type: 250 watt pedal assist with torque sensors
Motor Location: Within bottom bracket housing
Top Speed:
(light pedaling/flat surface/ 4th gear): 15 mph (25 km/hr)
(light pedaling/flat surface/ 8th gear): est. 24 mph
(hard pedaling/flat surface/ 8th gear): est. 30+ mph
I will be eager to monitor true output speeds with my Garmin GPS.
Labels: IF-folding-bike, IF-Reach-DC