CMYK Folding Electric Bike Attracts Interest
by Larry Lagarde
Pictured here is the very clean looking CMYK micro folding electric bike. Recently, the bike has been nominated for several design awards. It took 2nd place at the Peoples Design Award at New York's Cooper Hewitt and the word is that the judges loved it this week at the Spark Awards in San Francisco.
Due to it's minimalistic appearance, light weight and electric drive, the bike is generating a sensation.
The CMYK's lithium batteries are hidden away in the top tube between the handlebar stem and the seatpost; the motor is on the left side of the rear wheel.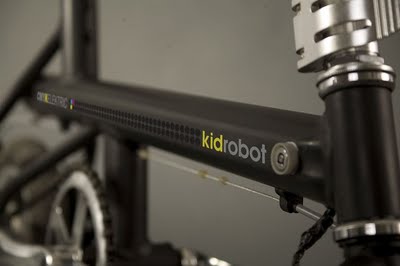 Designed to bridge urban distances that are too far to walk, the bike is neither a speed or distance demon (the batteries are said to last 50 minutes before being exhausted). It can easily be rolled or carried onto the subway, into an office building or school.
A project of New York designer Manuel Saez, it will be interesting to see what happens with the CMYK.
The CMYK is expected to hit the market sometime in 2010. Pricing is not yet set but is expected to be between $600-800.
By the way, the CMYK prototype is not a folder in the truest sense as the frame does not fold. Rather, it's a micro bike with a removeable handlebar and seatpost but that may change.
Labels: CMYK-bike, CMYK-folding-bike