Bicycle Friendly St Augustine Florida
Epic Beach Rides & Much, Much More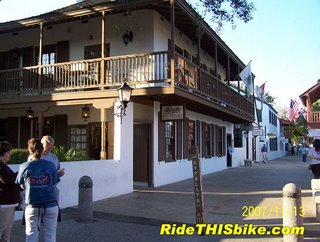 by Larry Lagarde
(Note: This is the first segment of a multi part story on bicycling in and around

St. Augustine, Florida

.)
Tis the season to be jolly but if chilly winter weather is sapping your cheer, perhaps a break in sunny St Augustine, Florida could be just what the doctor ordered.
Recently, I traveled to St. Augustine for an update on several regional cycling developments. It turns out that there have been some great changes since my last visit in 2002.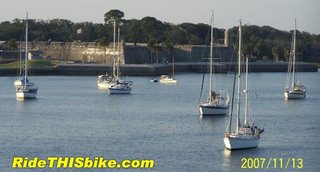 Little St Augustine (pop 12,000) is the oldest continuously inhabited European settlement in the USA. Formerly a vital safe harbor for Spanish galleons laden with gold, St Aug was also Spain's northernmost American strong hold.
To protect the town from pirates and rival colonial powers, the Spanish built an impressive stone fortress (
Castillo San Marco
) and more. The fortifications worked, allowing the town to survive and leaving a rich cultural legacy to this day.
With 40+ tourist attractions/points of interest crammed into @ 3 square miles, St Augustine is like a theme park magically brought to life. Watch re-enactors fire cannons and muskets at the Castillo. Sip from a freshwater spring thought to be Ponce de Leon's Fountain of Youth. Take a sunset pirate cruise on a 2 masted sailing sloop. Watch keepers feed every type of crocodile on earth (including a
17 foot Australian saltwater croc
) at the Alligator Farm. See the best view for miles by climbing 174' to the top of the historic, haunted, candy striped lighthouse. And then, of course, there's the biking.
Given the town's small footprint, narrow streets, limited parking and popularity with tourists, bicycles come in handy in St Augustine. Rentals are available but a light folding bike is more convenient. I rode a
DownTube Mini
with an 8 speed internal hub with 16" wheels and was very satisfied; however, with the flat terrain, a 3 speed or even a simple single speed with coaster brakes would work well here.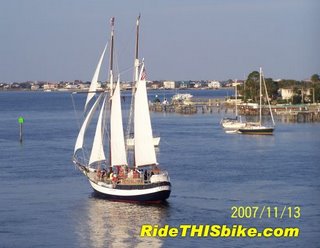 As enjoyable as it is to bike in St Aug's historic center, the highlight of my trip was riding on Anastasia Island's white sand beaches. A short spin over the Bridge of Lions, through a quiet residential neighborhood, past the
Alligator Farm
and across US Hwy 1A brings you to
Anastasia State Recreation Area
. For 3 glorious miles, the sight of man made structures or the sounds of motor cars are delightfully absent from the beach.
I carried my folding bike across 70' feet of loose sand and began pedaling. The path was an unmarked, 200' wide expanse of flat, hard packed sand that extended all the way to the crashing surf. I playfully weaved back and forth across the beach, serenaded by gulls, waves, wind and the constant crunching of microscopic shells beneath my tires.
Unless you have a boat, access to Anastasia SRA is only from the south end. Thus, the further you pedal up the beach, the greater the solitude. By the time I reached the north end at the inlet to St Augustine's harbor, shore birds outnumbered the 5 people there by @ 800 to 1. Looking west, I was also rewarded with an unforgettable vista: St Augustine at sunset. Terns pecked the sand at water's edge in search of a meal. Behind them lay a shimmering harbor sprinkled with sailboats swaying gently, some gliding slowly across the surface. The golden outline of downtown St. Augustine hovered on the horizon, back lit by the setting sun.
Coming Soon:
Guana's Sand Trails, Rail Trail To Orlando & Road Ride To Jacksonville Airport
Labels: Florida, great places to go bicycling, St Augustine