Strida Mini Arrives August
by Larry Lagarde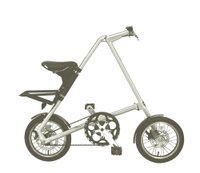 Here's an update on the smaller version of the Strida 5.0 (reported on in April as the
Strida Bantum
) that's designed to accommodate riders under 5'4" in height.
The Strida Mini folding bike is
identical
to the current Strida 5 in every respect save two:
wheel size
(it uses 14" rims rather than 16") and
frame size
(the frame is scaled down so the distance to the pedals and handlebars is reduced). The Mini will be available in August. The only color of the initial model run will be silver.
A very limited number of Strida Mini folding bikes will be made available for presale through RideTHISbike.com. The presale price will be $699, which is $100 less than the current Strida 5. Pricing is subject to increase without notice but once you make a purchase, you'll be assured of getting the lowest price.
Once the Strida Mini is exhibited at Interbike, it is expected that the bikes will sell out quickly. Thus, if you're under 5'4" in height, the time to purchase this bike is now.
Labels: Strida-Mini-folding-bike.