One Day Only Katrina Anniversary Gustav Coming Sale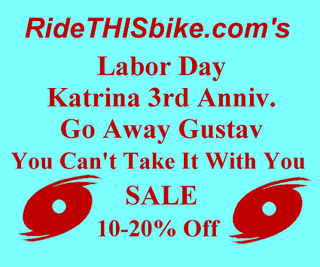 by Larry Lagarde
Tomorrow (Friday, August 29, 2008) is the start of the long Labor Day weekend. It's also the 3rd anniversary of Hurricane Katrina destroying my home town and the last day I can ship bikes before Hurricane Gustav slams into the Gulf Coast.
To mark the occasion (and to build up the Lagarde hurricane evacuation kitty), I'm offering a one day only 20% off sale on every bike in stock (10% on drop orders). My intent is to ship as many bikes out tomorrow as I can but the sale must end at 4pm Central (so DHL can get your bike out of the hurricane zone before the storm shuts everything down).
You may submit your order online or via phone. Online orders will be refunded the appropriate amount after the sale; phone orders will get the discount immediately (if I'm able to take the call).
If you've been thinking about getting an E-Z Pack, this is the time to do it. You will never see prices this low again.
Remember, 1 day only.
Labels: Hurricane-Gustav