EZ Pack Folding Bike + Toyota MR2
Fits in the MR2 spare tire well!
by Larry Lagarde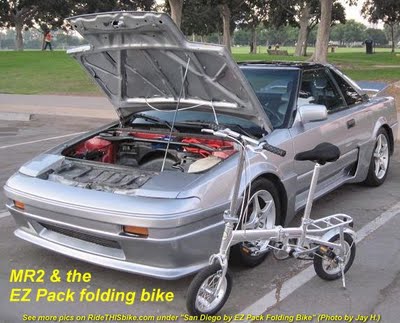 At least once a month, a customer sends me photos of their folding bike. The following photos are from Jay H. (source for the recent
tips on bicycling in San Diego
).
Jay has ridden a variety of folding bikes including the A-Bike and the
CarryMe
. Unfortunately, he's also been the victim of a bike thief.
After his last bike was stolen, Jay called me to learn more about the EZ Pack folding bike. He wanted to know if the bike was suitable for a multi-mode commute via light rail and if it would fit in the spare tire hold below the hood of his mid-engined Toyota MR2 sports car. As you can see by the photos, it does and Jay is quite happy (for comparison, note the pics of the A-Bike & CarryMe in the MR2).
Thanks Jay for the photos.
Labels: E-Z-Pack-folding-bike, Toyota-MR2