New Mercedes-Benz Folding Bike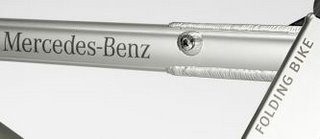 by Larry
Lagarde
It's official. Today, an official Mercedes-Benz press release for their new MB branded bicycle line hit the Internet (I found it on
eMercedesBenz

.com
). Included in the mix of bicycles types was the Mercedes-Benz
FoldingBike
(the small wheel folding bike that Mercedes began teasing cyclists with last year).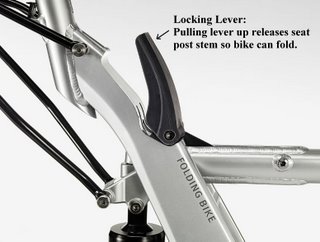 The
FoldingBike's
design cleverly incorporates a locking lever into the folding seat post. To fold the bike, open the locking lever and push the seat post forward until it rests parallel to and just above the top tube. The carry rack is mounted to the frame in a way that makes it fold in sync with and above the seat post.
Although the press release omitted details such as the alloy bike's weight, stand over height, etc., it did list the price at 1699 Euros (@ $2400 US right now). Well, if you can afford a Mercedes-Benz, I suppose they figure you can afford their folding bike.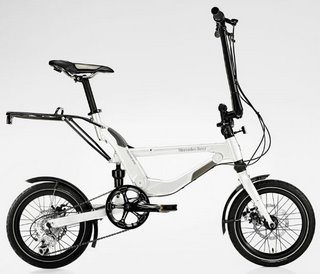 While I'm sure some die hard Mercedes Benz fans will snap up the MB folding bike, for that price, there's no contest; I'd much prefer the snazzy new
IF MODE folding bike
. After all, it's the MODE that's winning international awards. And with the rear derailleur hanging so close to the ground on the Mercedes-Benz folding bike, the chain and drive train on the MB folder will be a bit of a maintenance headache (whereas the
MODE's
enclosed drive will be maintenance free). Too bad MB didn't go with a
Kevlar
drive belt and an 8 speed internally geared hub. Now that would have been interesting.
Here's the portion of the Mercedes Benz press release that referred to the new Mercedes-Benz folding bike:
OFFICIAL PRESS RELEASE


Mercedes-Benz Bike Sports Selection 2009/2010: New, exclusive bikes from Mercedes-Benz

Stuttgart - Mercedes-Benz has presented a new collection of exclusive bikes with an outstanding level of technical features. In addition to the

Mountainbike

and the racing bike, which are limited editions to a particularly high technical standard, the

Foldingbike

impresses with its unique fold-down technology. Mercedes-Benz has also carefully updated its tried-and-tested bike models, with several detailed improvements. This means that for its bike collection, Mercedes-Benz offers the same outstanding level of quality as for its premium automobiles.

The

Foldingbike

is a real gem in technical terms. It features a patented folding mechanism that impresses by being particularly easy to operate. Folding and unfolding the bike takes only a few seconds, and no tools are required.

The cleverly designed mechanical system allows two different folded positions:

* In the Shuttle position the frame is folded together, but the bike can still be pushed and steered - ideal for easy carriage using public transport.

* When completely folded down, the Mercedes-Benz

Foldingbike

requires very little space indeed. In this position it only measures 80x80x35 cm, enabling it to be stowed in the high-quality carrying bag which is also supplied. Accordingly the bike can be easily accommodated in the car boot, camper van, office or yacht as a constant companion.

The folding frame of aluminium has a suspension travel of 40 mm at both front and rear, and this is adjustable for individual riding comfort. A

Shimano

8-speed derailleur gear makes for relaxed cycling, while disc brakes ensure a high level of safety. A side stand, protective metal cover and a variable luggage rack make this extraordinary bike outstanding for day-to-day use. The new Mercedes-Benz

Foldingbike

is available in silver or white, and costs 1699 Euro.
Labels: Mercedes-Benz-folding-bike