Desert Sand Folding Bike Carry Bag
A Desert Camo Carry Bag For The Paratrooper Folding Mountain Bike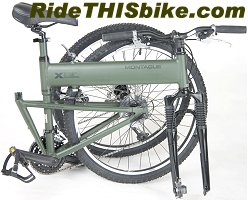 by Larry Lagarde
There are times when customers ask me for unusual products. Recently, a U.S. soldier deployed in Iraq wanted a camo colored carry bag for his
Montague Paratrooper folding bike
. Although Montague makes a great carry bag (they call it a soft case), the Montague bag is black with either "MONTAGUE" or "SWISSBIKE" in big, bold, white letters -not the best color scheme for desert warfare, bow hunting, etc.
Today, a firm that makes nylon back packs contacted me looking for some business and it got me thinking about making a desert camo or green camo colored carry bag for the full size folding mountain bikes from Montague.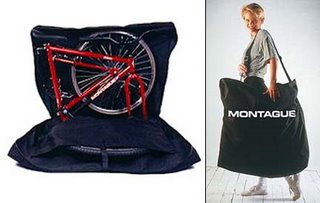 I asked the back pack manufacturer if they could come up with something for me and I hope to have an answer soon. The real question though is whether there's enough demand for such a specialty product.
Would you buy a camo colored carry bag for your folding bike? To produce a product like this at a fair price will take more than a couple of orders from a few Special Forces guys... The target price is a max of $149. If you're interested, just let me know.
By the way, another question I get is whether I can paint the Paratrooper,
SwissBike LX
or one of the other less costly Montague folding bikes (like the
Montague CX
) in desert cammy. This is something that I've toyed with doing. It does require pulling parts to do it right and the rear rim sidewall cannot be painted; however, I'm game if enough people are interested.
Labels: bike-carry-bag, folding-bike-carry-bag