Video & Interview - Bicycling The Bolivian Andes
by Larry Lagarde
If you've ever wondered what it would be like spending 14 weeks crossing the high Bolivian Andes and northwestern Argentina by bicycle, take a look at this
movie trailer
for the 76 minute documentary "
Andes Bicycle Expedition: A Crossing of the Bolivian Altiplano
." Shot by the cyclists portrayed in the film (Kathleen Mullin and Yannick Daoudi), the trailer gives a glimpse of the stark terrain and challenges the riders encountered on their bike trip.
I learned of this bike trip documentary while reading about the films being shown at the 2007
Vancouver International Mountain Film Fest
. Taking place now through February 24th, the festival features amateur and Canadian films relating to mountain climbing and other extreme sports.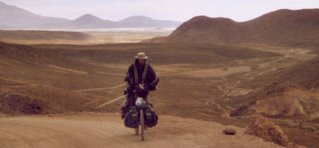 After I viewed the trailer, I contacted the cyclists for a brief interview and Yannick Daoudi (the male cyclist featured in the movie) agreed. Once the interview is conducted, I'll be publishing it here at
RideTHISbike.com
.
Labels: Andes, Argentina, bicycling, bike tour, bike trip, Bolivia, documentary, movie, trailer