Mallorca Via Montague Folding Bike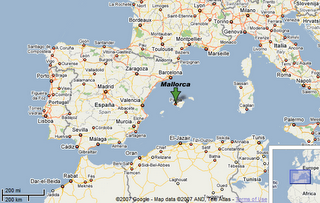 Mallorca
.
If you're originally from the UK or Germany, chances are that either you or someone you know has vacationed on this idyllic Mediterranean isle off the coast of Spain. In fact, over 20 million tourists visited there last year; however, only a small number were Americans. What do the Europeans know that we don't? You're about to find out.
Several days ago, Will Wattles (a psychology professor from Francis Marion University with a deep love for bicycling) wrote that he would be spending his semester break touring Mallorca via the
Montague MX full size folding mountain bike
that he had purchased in September on RideTHISbike.com. Will offered to share highlights of his solo, unassisted bike tour as well as comments on the performance of the bike. Following is his first entry.
Mallorca Via Folding Mountain Bike
by Will Wattles
Settling In
I packed my Montague folding mountain bike in the original box. My bike and bag were lost so I took a city bus to Palma de Mallorca the main city on the island. The bike arrived late the next day late and, the box and bike were in fine condition. The airline delivered it to my hotel, Hostal Borondo, in the old city. Borondo is a narrow pedestrian alley off Born Avenue. I paid 35 euros a night for a tiny room with a shared bath in a great location. I was so excited when the bike came that I put it together and took off for a ride even though it was well after dark.
I pedaled down Born Avenue (not its exact name the streets have Catalan names that are too hard for me to remember.) about half a mile to the waterfront where I got on the bike route that runs along the shore. I pedaled along with my lights flashing under the moonlight with the Mediterranean on my right and passing an occasional jogger or cyclist.
The First Full Day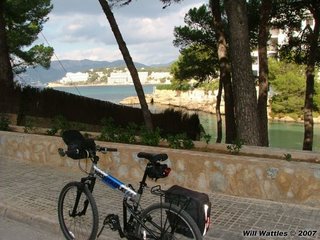 The next morning I took off to the west on the same path with palm trees and fancy hotels on my right and a marina full of million-dollar yachts on my left. The bike lane ended and I took to the road. Driving the world over seems to bring out the worst in people, however the motorists on Mallorca have been pretty good. The roads are often narrow with no shoulder as was the case as I headed through Portales Nous where I stopped for breakfast toast and eggs at a restaurant named for Fred Flintstone. As I pedaled past the resort communities of Palmanova and Magaluf I came upon a pedestrian/bikeway. Sometimes the road is faster but in this case I found them quite welcome. A few hills made me work harder and I enjoyed some great views of houses built on the side of cliffs with severe drop-offs into the sea. I followed the bike route to Santa Ponca. Wooden bike route signs gave mileage (actually kilometers) to the next town, At places I found a map mounted on a kiosk showing bike routes both on and off road around the island. I saw a visitor information center in Santa Ponca and went in to see if I could get one of those maps. The woman was very helpful and gave me an old version of the map and several other local maps.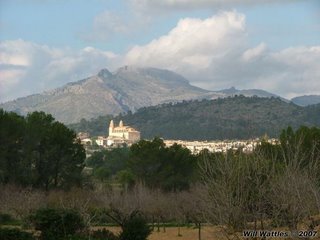 The separate trail ended at Santa Ponca and, I took the road through a series of traffic circles toward Calvia. I crossed over a motorway and after a while a wooden sign directed me to the right down a one-lane paved road. At one point I saw a mountain village to my left lit up by the sun as if it were a celestial spotlight. The pavement ran out and I was glad to be on a mountain bike as I rode though groves of trees maybe carob maybe almond. At one point I stopped to look at a herd of sheep and heard only dozens of bells on the sheep, the bleats of young lambs and maybe some wind. In Calvia I got some juice and bread in a market and took a break in a park with a intriguing history of the city on a mural on the wall. I continued on over a significant climb made manageable by a series of switchbacks that kept the grade moderate. After having the road to myself I hit city traffic for a few miles back to the city. I rode 48 miles that first day and saw many riders on road bikes and mountain bikes.
The Second Full Day
More about Will Wattles...
Will truly enjoys bicycle touring. Over the last decade, he's toured places such as Greece, Costa Rica, Malta, Chile and Venezuela. For more stories and photos from Will's previous bike trips, visit WillBike.com.
Labels: bike-tour, Mallorca, Montague-MX