Folding Pedals $29.99 Per Pair
by Larry Lagarde
If you've been wanting a good set of folding pedals, you're in luck.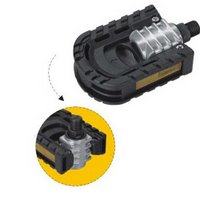 I convinced the USA distributor for Marwi (a specialist in the manufacture of bike pedals and bike lights) to place a special order for me for 100 pairs of the high quality Marwi SP-151 folding pedal. These are sturdy and solid, spring actuated folding pedals with a boron steel axle, alloy frame and nylon resin pedal surface. To fold this pedal, simply grasp together the end of the pedal and the finger hole in the pedal's center.
As I've mentioned before, folding pedals come in handy for several reasons. When walking beside your bike, if you fold the pedal, it's less likely to slam into your leg or something else (furniture, doorways, other people, etc.). Opportunistic bike thieves will think twice before jumping on your bike because most have never seen a folding pedal, making it more likely that they'll move on to an easier target. Lastly, if you're placing your bike in a carry bag, the bag is less likely to perforate or tear because the pedals will not be jabbing into the side of the bag.
Following are the specs on these pedals:
Type: folding; dual sided (can be pedaled on either side)
Body: aluminium body, nylon (black) cage
Axle: boron steel
Bearing: adjustable ball type
Reflector: approved
Size: 110 x 70 mm
Weight: 385 gram/pair
Spindle Size: 9/16" (the standard size for 3 piece cranks)
The pedals are "on the boat" now and will arrive sometime in early July. MSRP on them is $41.99; however, these pedal sets will be available on RideTHISbike.com for $29.99/pair (when purchased with a folding bike) or $35.99/pair as a stand alone purchase. Either way, shipping is free (within the USA lower 48 states).
Labels: folding-pedals