Mallorca By Folding Mountain Bike
Day 3 - Bike & Hike to Castell d' Alaro
by Will Wattles
While warming up at Cafe Alaro, the barista told me about a great place to hike. After another coffee and bocadillo (sandwich) at the cafe, I returned to my room, put on a lot of clothes (to ward off the near freezing chill) and took off on my bike.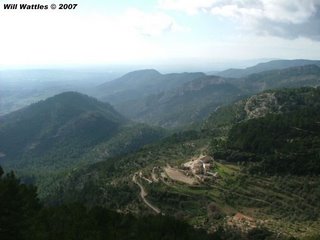 I biked the main road (almost two lanes wide but with cars parked along most of it and two-way traffic) toward Inca and soon saw two steep peaks, locally called the molars, to my left. I took a left and started up a narrow paved road toward the Es Verger restaurant high on the side of a steep hill and the Castell d' Alaro on the top of one of the molars. The road immediately began to climb and to wind back and forth in a tortuous series of switchbacks. It hardly seemed possible that a road could climb such a steep incline. Olive trees grew on both sides and black olives and a type of acorn lay in abundance on the surface. Paved for a while it soon gave way to pot holes and patches of cement that looked like they were put down by someone with an attitude. Each switchback gave me a new view of the valley as it rapidly fell below me.
It took nearly an hour to pedal the 3 miles to the restaurant which turned out to be a sheep farm as well. I left my bike in the parking area and proceeded to hike a steeper switchback dodging sheep droppings on the trail and watching birds. Soon the restaurant was far below me and I pushed on for nearly an hour before arriving at the ruins of the fort, once a Moorish stronghold. Little remains of the battlements that played a big role in slowing the 1285 invasion by king Alfonso III of Aragon.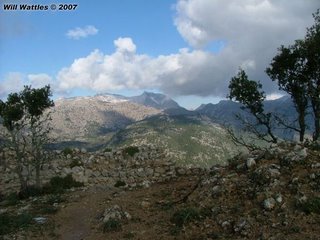 On the way up I had shed layer after layer of clothes and was still hot from the exertion. At the top I immediately began to cool off. Snow covered the ground and the air had a refreshing but cold bite to it. In the distance I could see Puig Major, the highest point on the massive mountain range to the west. A young hiker talked about how lucky we were to have the snow to make it all so magic. I agreed but was happy for all those layers I had removed and could now put back on. I enjoyed that descent through the trees as much as I had the climb. I hated to leave but it was cold and I had only a snack. It's hard to imagine anything on my trip that could match this magical hike/bike outing.
Mileage for the day: 7
Total trip miles: 88
Day 4 - From Alaro to Alcudia
More about Will Wattles...

Will truly enjoys bicycle touring. Over the last decade, he's toured places such as Greece, Costa Rica, Malta, Chile and Venezuela. For more stories and photos from Will's previous bike trips, visit WillBike.com.
Labels: Mallorca, Montague-MX