Westport Adult Folding Trike Presale
by Larry Lagarde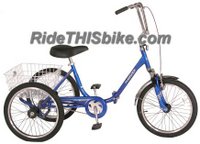 I have good news for those of you looking for a practical, reasonably priced adult folding trike. Starting now, a presale will begin for a limited number of Westport trikes that will be here in about a month or so. Purchasing your trike during the presale will lock in the price at $359 (shipping included) regardless of any shipping or other price increases that occur in the meantime.

Although I have been aware of the Westport trike for over a year, I was skeptical how many people would be interested in a traditional styled adult trike that folded. Boy was I wrong. What opened my eyes? The excited reception that the trike received from both my wife & my parents followed by countless inquiries from customers.

Two months ago, Kent sent me a sample Westport to try out. Soon after I had unboxed the trike and completed the basic assembly, my wife and parents were all oogling it and talking about how much fun it would be to ride. FUN! For my mom, it was the idea of going to the grocery, convenience store, plant nursery or nearby garage sales on it. For my dad, it was a pleasant way to exercise with my mom and enjoy the neighborhood. To my wife, it was a safe way to go cycling with the kids. Hmmm.

The day that I added the trike to RideTHISbike.com, inquiries began coming in. I wondered what was going on? Turns out that there are a lot of folks like my family that want a simple, versatile adult trike. Many have told me that they haven't rode a bike in a long time and wanted something easy to start with - something that didn't require balancing, something that's highly visible by motorists, requires little to no maintenance and takes up less space than a non-folding adult trike. People also love that they can remain seated when completely stopped, without the need to put their foot on the ground as they would need to do to keep from falling over on a regular bike.

Higher costs for production and distribution have pushed the price of the Westport from $299 to $359 and Kent has indicated that there could be more price increases soon. If you want one of these practical and fun adult folding trikes, put to rest the fear of higher prices. Participate in our presale today.

Again, there will only be a limited number of new Westport trikes coming in. Until you make your purchase, prices are subject to change without notice.
Labels: westport-adult-trike