Bike News - BigFish Coming; Strida SX Going
by Larry Lagarde
BigFish Available In North America Within Weeks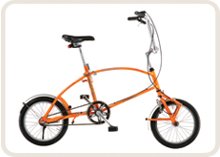 I received confirmation today that the
BigFish folding bike
will be in stock in the USA by mid to late July. MSRP will be $799 but the bike will be launched initially at the
promotional price of $549
.
A micro folder, the BigFish has 16" wheels; yet, the ride geometry is equal to that of a full size bike. The BigFish rolls when folded and folds narrow like a
CarryMe
,
Mobiky
or
Strida
. The big difference is that the BigFish folds without folding the frame (the wheels swivel into and nest within the frame), resulting in a bike that folds shorter than a CarryMe or Strida. This combination of features should make the BigFish a formidable competitor to other brands.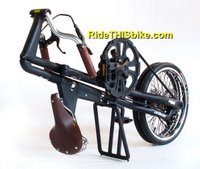 Strida SX Soon Sold Out Until Fall
Sales of the
Strida SX folding bike
have been stronger than anticipated, leaving the American distributor (Areaware) almost out of stock before the end of June (which is distressing because I only have
a few left
). According to Areaware, they can't get more of the SX until the Fall.
If you are a tall guy (over 6' 2") in search of a micro folder, the
SX
is about the only game in town (and they definitely cruise faster than the
Strida 5.0
) so act soon before they're gone.
Labels: BigFish-folding-bike, CarryMe-DS-folding-bike, Strida-5-folding-bike, Strida-Mini-folding-bike, Strida-SX-folding-bike