Just 10 Superlite 3 Speeds Left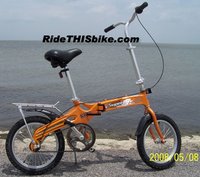 by Larry Lagarde
That's right. I started the season with hundreds of the Kent Superlites and stock is now running out. In fact, there are just 10 left of the mango Superlites with the Shimano Nexus 3 speed internal hub (supply of the 1 speed is better). Unfortunately, it doesn't appear that stock will be replenished until Fall and prices will be much higher ($299-329 for the 3 speed).
I knew the Superlite folding bike would be a hit but this folding bike was a risk for Kent. Magnesium is prized for its strength, light weight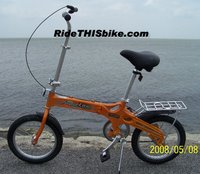 and ability to absorb road shock but no major bike maker has offered an entry level bike in magnesium simply because it cost too much.
Kent's solution was to make the frames using a high tech diecasting process, cutting labor time and eliminating waste. They equipped the Superlite folding bikes with practical, low maintenance components (the acclaimed Shimano Nexus internal speed hub and coaster brakes) and outfitted them with useful accessories (rear carry rack, fenders, kickstand). The result was a folding bike that's lighter, simpler to maintain and less costly than just about every production model folder.
Why The Delay In Resupply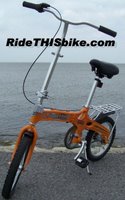 There are two problems. First, the factories are pumping out as many bikes as they can but demand continues to exceed supply. Second, materials, labor and transportation costs keep rising...
Frankly, there is concern that consumers may pass on an entry level folding bike priced at $329. The fact remains that Kent is the ONLY manufacturer that has offered a reasonably priced magnesium bike! Even if the price was $429, it would be fair but hopefully it will cost much less.
Once I'm out of the 3 speeds, the best I can do is to create a wait list but it will be MONTHS before new ones arrive.
Labels: Superlite-folding-bike