Arrived: Compact Folding Bike Carry Bags
by Larry Lagarde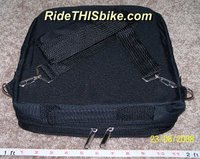 Last year, Kent announced that they were creating a
folding bike carry bag
for their Superlite and Ultralite line of 16" wheeled folding bikes. Well, it took 6 months but they're finally here.
The bags are exactly like the sample that Kent sent to me last December - black, nylon with the feel of soft canvass. The carry bag is designed with a hard bottom that's split in two so it will fold into a compact 11" x 11" x 2" package (about the size of a portable dvd carrier for your car but smaller than a laptop case).
When folded, the bag zips up into a side compartment. For easy carrying, there's a padded nylon handgrip at the top, chrome eyelets at the side and a padded shoulder strap. There's enough room inside the folded bag to use it to hold your wallet and cell phone too.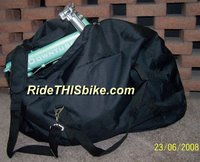 Unfolded, the carry bag is designed to carry a folding bike measuring 27" x 24" x 15". As a result, this bag will hold just about any folding bike with 16" wheels and some with 20" wheels. Stick type micro folding bikes like the Strida are too long and will protrude from the end (if you have a Strida, Giatex carry bags are perfect for them & I have a few Giatex bags left).
The Kent compact folding bike soft carry case is a sturdy carry bag that will protect your folding bike from potential dings, scratches and damage; it will also make your bike invisible to thieves, doormen, train conductors, etc., so it's a great way to protect your investment.
MSRP on the carry bag is $54.99; however, you can pick one up here for just
$34.99
, shipping included. Make your folding bike a happy camper;
get a carry bag today
.
:-)
Labels: kent-compact-carry-bag